Nevis Public Utilities Minister to CARILEC membership: Never sacrifice training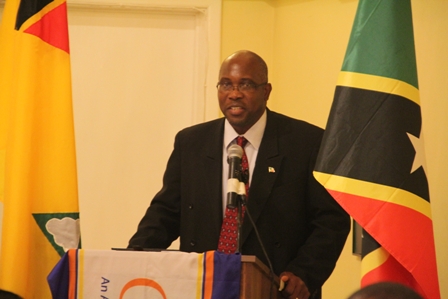 NIA CHARLESTOWN NEVIS (March 23, 2012) — Minister responsible for Public Utilities on Nevis Hon. Carlisle Powell told members of the Caribbean Electric Utility Service Corporation (CARILEC) that they should never sacrifice training no matter what their challenges were.
He was at the time delivering the key note address at the opening ceremony of the 2012 Occupational Health and Safety Conference hosted by the Caribbean Electric Utilities Services Corporation (CARILEC) on March 21, 2012 at the Mount Nevis Hotel.
The two day conference which concludes on March 23, 2012 was held under the patronage of Premier of Nevis Hon. Joseph Parry with the theme "Make safety a core value through training and commitment".
"It is a known policy that when businesses face challenging times, as finance becomes a scarce, one of the first things that is suspended is training. It is to your credit therefore, that CARILEC decided that this Occupational health and safety workshop and conference must be held at this time when resources are scarce…
"Whatever the challenges, we can never sacrifice training. This is especially true when we are dealing with the area of occupational health and safety. The health and safety of employees must always be placed above profits," he said.
Mr. Powell urged participants to take advantage of the training opportunity given to them and to use it to increase their knowledge in areas that would make their job sites safer places.
He also encouraged them to keep close contact with each other since no challenge was unique to any participating utility and it was always better to put a face to a name.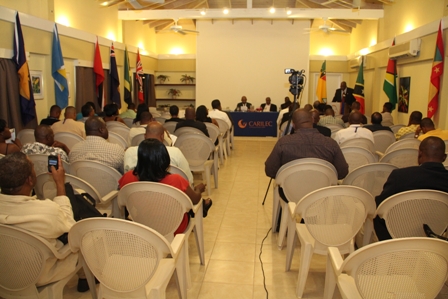 Notwithstanding, the Public Utilities Minister said these were challenging times with instability in various parts of the world and in particular major oil producing areas which undoubtedly contributed to the high and rising price of oil on the world market.
Even in the face of threats of wars and man's inhumanity, Mr. Powell said talk of global warming and the projected effects especially on the Caribbean islands which were surrounded by sea water persisted. Utility companies, however, were expected to continue to provide a reliable and affordable supply of power to their customers.
Mr. Powell noted that although the traditional sources of power generation for the region's utilities were diesel and hydro for the most part, their goals should now be redirected to non traditional methods.
"Our goal must be to integrate non traditional sources such as solar, geothermal, wind energy, waste to energy and bio fuels to name a few. I say non traditional and did not include wind but we are fully aware that hundreds of years ago wind as a source of energy was widely used in the sugar plantations. We are aware that after the juice was crushed from the sugar cane, the waste was used to fire the steam engines," he said.
Participating companies at the two-day conference were the Anguilla Electricity Company ltd., Bermuda Electric Light Company Ltd., Dominica Electricity Services ltd., Fortis TCI, Grenada Electricity Services, IFD Corporation, Jamaica Public Service Company, Light and Power Holdings, Montserrat Utility Ltd., National Petroleum, Nevis Electricity Company ltd., Paradoxe Corporation, St. Kitts Electricity Company, St. Vincent Electricity Services Ltd., Tee Luck Sing & Associates Ltd., The Power Generation Company of Trinidad and WEB Aruba.
The conference was declared open by Premier Parry and was chaired by General Manager of the Nevis Electricity Company Mr. Cartwright Farrell who also delivered the opening remarks. Executive Director of CARILEC Dr. Gary Jackson delivered the vote of thanks and remarks on behalf of CARILEC.
The national anthem was delivered by Mr. Ruvidson Morton and a prayer by Ms. Patricia Hanley. The key note speaker was introduced by NEVLEC's Acting Human Resource Officer Ms. Curleane Parris and entertainment was provided by Rhythmz Dance Theatre.