Nevis should get more out of Citizenship by Investment Programme, says Premier Amory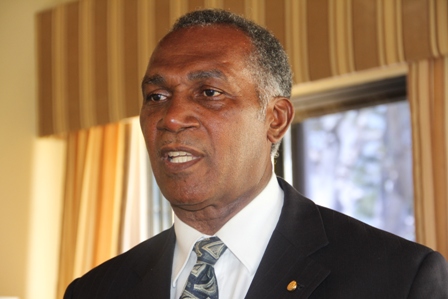 NIA CHARLESTOWN NEVIS (February 12, 2014) — Nevis should gain more from the Citizenship by Investment (CBI) programme. Premier of Nevis and Minister of Finance in the Nevis Island Administration (NIA) Hon. Vance Amory believes the programme which is governed by the Federal Government, should approve capital projects for Nevis in exchange for citizenship, once the applicants met the requirements.
Mr. Amory was at the time a guest on Inside Government a programme aired on Nevis Television Channel 8 on February 10, 2014, when he expressed the view. It also came after a January 24th meeting in Basseterre with officials of the International Monetary Fund (IMF), the NIA and the Federal Government.
"Their (IMF) advice was we needed to have some capital projects and they were thinking that we should have some of the Citizenship by Investment programme money.
"We are lined up, as I advised them, to benefit from that if the Federal Government or the CIU, which deals with that matter, were to approve for the CBI programme the projects which we have. I will tell you that we have no fewer than five such projects," he said.
The Premier stated that the projects though tourism related, would provide added employment and positively impact the island's economy.
"We have the projects at Mount Nevis where there will be a projected US $60 million expenditure on expansion. There is a proposed Eden Villas. The Amman project is still being held in abeyance. We have a project at Butlers in the White Hall area, near the St. James' School to be developed by a Nevisian family and a company which they have established to provide high-end villas for tourism development and for other purposes.
"All of these will create employment if they are approved and the object of requesting the CBI approval, approval for CBI purposes is that it would enable them to better market and promote and so we are being slowed down a bit … I think the IMF raised that in our joint meeting, as well, in St. Kitts and we also raised that," he said.