Nevis Sixth Form College Valedictorian confident fellow classmates will do well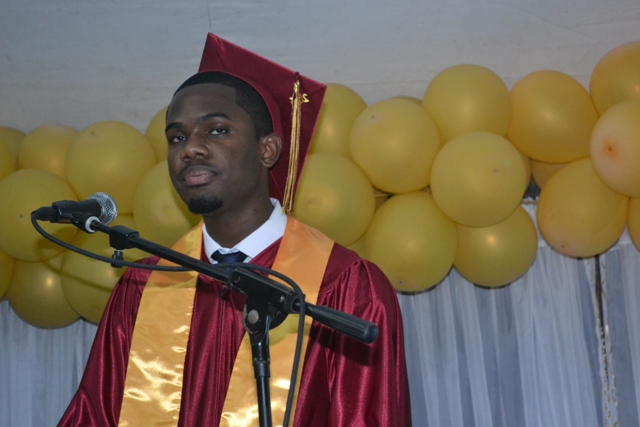 NIA CHARLESTOWN NEVIS (NOVEMBER 18, 2015) — Valedictorian of the Nevis Sixth Form College Graduating Class of 2015 Tyler Martin expressed confidence that his classmates are all capable of doing well in their future endeavours. He was at the time delivering the valedictory speech at the Charlestown Secondary School (CSS) and Nevis Sixth Form College Graduation and Prize-giving Ceremony.
The event was held at the Cicely Grell-Hull Dora Stevens Netball Complex on November 11, 2015. The theme was "Sowing Seeds of Knowledge and Service Today to Reap a Productive Society Tomorrow." Martin is the top student in the Caribbean Advanced Proficiency Examination (CAPE).
"I know that every one of you is capable of going beyond the point at which we are today… I encourage every student to set goals, to work hard to achieve those goals and always show gratitude to those who help you along the way.
"I urge you all to never stop reaching for success, never give up your dreams. With our enduring Nevisian psyche all things are possible," he said to the other 54 graduates.
Martin thanked them for their constant friendship and graciousness and congratulated them for what he described as a job well done.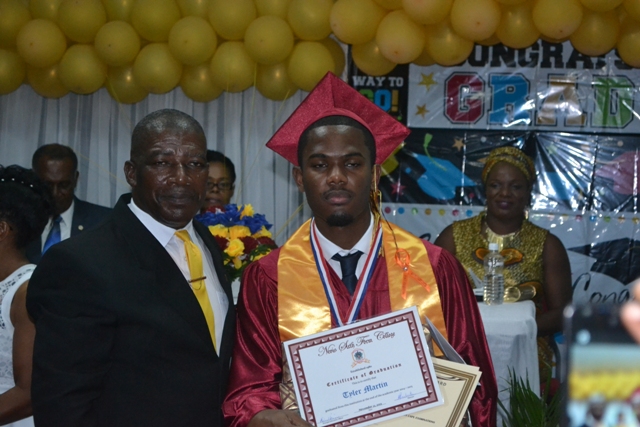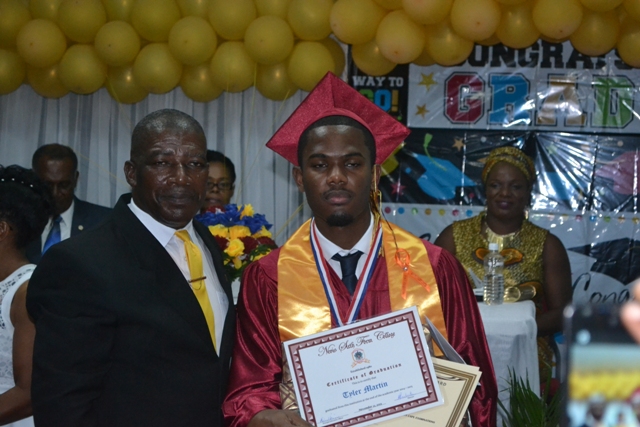 He said true success comes through consistent hard work, perseverance, discipline and faith and acknowledged that in his case, his success was not his efforts alone. He noted that he had done well with the assistance of teachers, the encouragement of his family and friends and the divine grace of Almighty God.
Martin expressed gratitude to the teachers who impacted his live. He said they were indispensable to his success and that of the Graduating Class of 2015.
He also thanked Director of the Nevis Sixth Form College Pamela Pemberton for her encouragement and constant reminder to focus. He also thanked Ercia Blake for her encouragement and thoughtfulness.
The 2015 valedictorian said he would cherish the memories forged during his years at the college and the lessons which contributed to his social and academic development and form a secure foundation, one on which he may build his future.
He said among his most treasured experiences is his membership in the Nevis Literacy and Debating Society.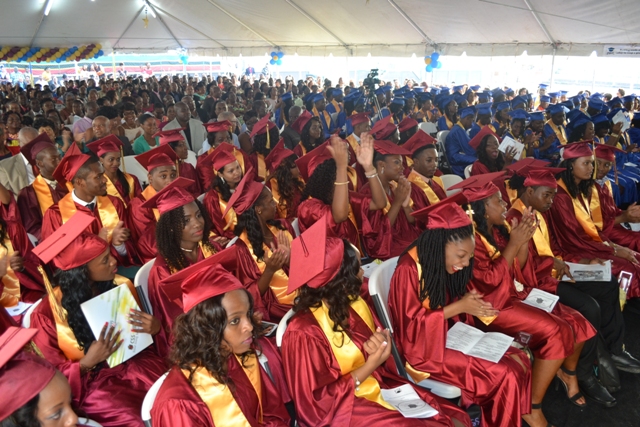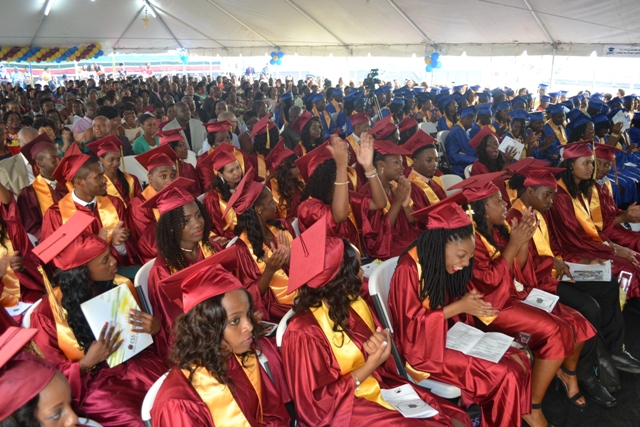 Martin noted, it is generally accepted that the society helps sixth former students to aspire to achieve the highest standards of knowledge and logic. He said he was able to participate in many fundraising activities and also to support the team in its travel overseas.
He said the Graduating Class of 2015 is satisfied that the debating society it is leaving behind remains in the good condition just as they inherited it at the beginning of their college journey.