Nevis Social Services Department supports world bicycle tour; launches in Nevis April 1st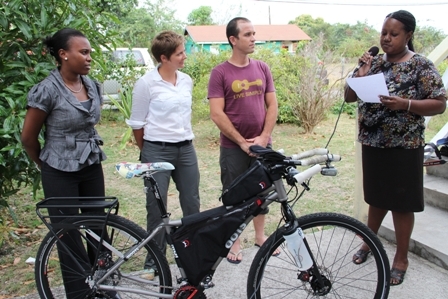 NIA CHARLESTOWN NEVIS (March, 29, 2012) —
The Department of Social Services on Nevis has thrown its support behind a bicycle tour of the world launched on the island on March 27th, 2012. The expedition will take former Peace Corps Volunteer and Nevis Island Administration (NIA) employee Ms. Kristina Storey and her fiancé Mr. Nick Arney 30,000 kilometres around the world in 300 days. The last six kilometres will be completed in Nevis in February 2013.
The Department's Director Ms. Sandra Maynard said the expedition dubbed World by Bike which commences on April 1st would present Nevis a unique opportunity to showcase the island.
"I am absolutely delighted to welcome to launch their world bicycle tour. Christina I am really honoured that you chose Nevis. It shows that you were committed to us that you felt a part of us and that is wonderful so I want to thank you before I say anything else for that.
"It is very good promotion for Nevis, for our county for the Youth Division and for the Ministry as a whole because we are also the Ministry of Sports…I think just the idea that she chose Nevis to launch her tour from and she chose it to end her tour, is really saying something for what she gained from her experience with us and I want to thank her and welcome her back and to wish her and Nick all the best on their tour," she said.
Ms. Maynard used the opportunity to thank Ms. Storey for her generous contribution to the development of youth on Nevis. She also spoke to the Bike not Bombs programme which Ms. Storey was instrumental in bringing to the island with help from Mrs. Veronica Furgerson and her husband of Jessups Village. Today that programme continued to be a leading one in the department.
The Director expressed gratitude and explained how Ms. Storey became an employee of the NIA
"Kristina worked with us for several years, she was a Peace Corps Volunteer for several years, I think she did two stints with the Ministry and then we recognized her spirit and her energy and her dedication to young people and when it was time for her to leave we didn't want her to go and so the government agreed with a whole lot of prompting from me to hire her and I must say that we were not sorry that we did…
"I don't know anybody who work as hard as her, except possibly for Diana and many of my youth staff are going to get there, they are really trying they really do a lot of work but she was tireless like I said in her commitment to young people," she said.
The World by Cycle expedition will take the couple through six continents and 26 countries, during which time Kristina will attempt to enter the Guinness Book of Records as the world's first and fastest woman to go round the world by bike.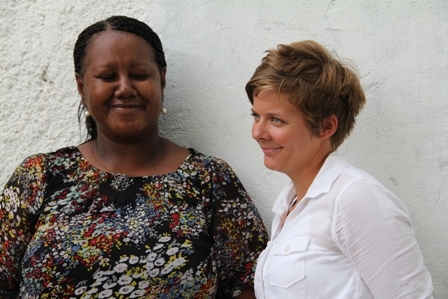 Ms. Storey said they chose to commence and end the expedition on Nevis because of her fondness and appreciation for the island and what it had given to her. She said it had developed her as a youth worker and taught her cycling, swimming, running and more and felt indebted to begin the foundation of her programme on the island.
"Many men have cycled around the world but no women have so we are going for the Guinness World Record for the fastest woman around the world. Because of that we have to document and follow certain criteria and that is why we chose Nevis to start and end. You have to start and end in the same location. You have to ride 30,000 kilometres in one direction only and go through two anti polar points which are two opposite points in the world.
"We are launching April 1st and we have to take a picture to document it and then we will fly to Brazil and ride 21,000 kilometres up the cost north east of Brazil before flying to Western Africa, then we keep going around the globe. We will be back here next year February," she said.
The team has a website www.worldbycycle.info which will be activated on April first when they commence their expedition. It will make provisions for much interaction with those who choose to follow them throughout their adventure across the world with photographs, interviews and video recordings of their travels.