Nevis' top 2016 CSEC student Rol-J Williams, sends message to underprivileged youths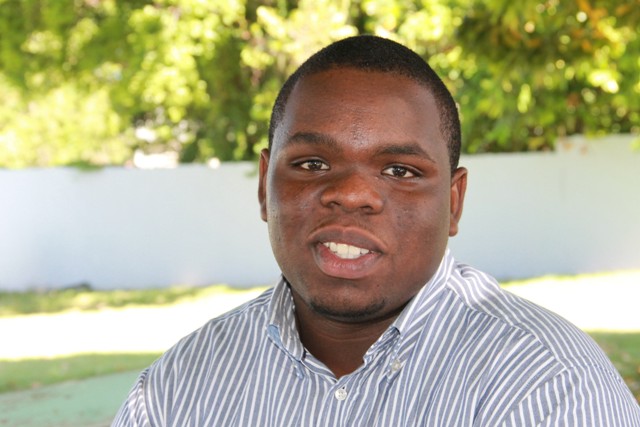 NIA CHARLESTOWN NEVIS (August 29, 2016) — "Coming from an underprivileged home is not the end of the world." That is the message 16-year-old Rol-J Williams has for youths on Nevis.
A student of the Gingerland Secondary School and the Federation's newest top student in the 2016 Caribbean Secondary Education Certificate (CSEC) examinations, Williams' advice came in a recent interview with the Department of Information in an invited comment.
"Being in a situation at a particular time, does not dictate the situation that you are going to be in 10 years. You, actually, dictate where you are going to be," he said.
Williams referred to research which he says shows that about 70 percent of world leaders actually went to school barefoot, had no text books or electricity and lived in a shanty.
Williams sat 17 subjects – Biology, Caribbean History, Chemistry, Economics, Electronic Document Preparation and Management (EDPM), English A, English B, French, Geography, Human and Social Biology, Mathematics, Office Administration, Physics, Principles of Business, Principles of Accounts and Social Studies and achieved distinctions in all distinguishing him as the first student to achieve Grade I's in 17 subjects.
He believes that if a person settles for a particular thing that is his choice but he does not have to if it is not necessary.
"You could always go and get an education. Put yourself out there to get scholarships. You could learn a skill, become a mechanic, become an engineer, a carpenter, a mason and putting yourself out there in a particular area, ensures that you are advertising yourself to many people overseas.
"I know a friend from the British Virgin Islands, he does epoxy work and he takes broken bottles and puts them in concrete and so on, style them, and he has actually been called to the United States, Trinidad and he is now on Anegada (BVI) doing a hotel project. He didn't actually go past high school," he said.
Williams says a person does not always have to be a bookworm to succeed but the ability to showcase their skills is critical
"You could sing. You could do art and as long as you put your work out there especially with the advent of social media, you should be able to advance yourself in this life.
"Don't think of yourself as someone else's equal. Think of yourself as being able to do better than the other person and in your own right, go out and achieve whatever you have to achieve. That is what Rol-J is doing. Honestly, when I'm doing my work I don't think of anybody else. Try to be unique and you should be able to do well," he said.