Nevisians publicly congratulate Premier Parry on his victory at the Polls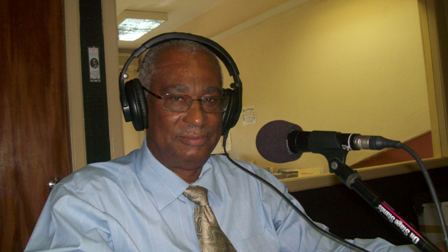 Premier of Nevis, Hon. Joseph Parry on radio during the In touch with the Premier program
(Charlestown, Nevis–Thursday, July 21, 2011) Premier of Nevis and Leader of the Nevis Reformation Party (NRP), the Hon. Joseph Parry was elated as he received numerous congratulatory calls on his popular radio programme In Touch with the Premier on Tuesday morning. The Talk Show designed to offer the public a avenue to dialogue with the Nevisian Leader every Tuesday morning, was the first since Mr. Parry led his team to victory at the Polls in the local Elections on Nevis just over one week ago.
"Premier Parry you are a good man and you have done a lot for the island of Nevis. Continue to focus and do not mind the naysayers," said one caller.
Speaking on the achievements of his party the Premier discussed the 308 affordable houses constructed by the Government, the road developments throughout the island, the reopening of the Four Seasons Resort and the advances in education for the students of Nevis, "all performed by the ruling NRP government," said Mr. Parry.
"We came into government back in 2006 with a plan and that plan has been successful for the island of Nevis," said the Premier.
One regular caller to the programme questioned, "If the Opposition said Nevis is mashed up and heavily in debt what do they want to run Nevis for? Anybody does fight hard for something that is mashed up?" The comment drew laughter from the entire studio.
The Hon. Joseph Parry later discussed his near future plans for further developing the island.
"We are going to move into our second term with a continual push towards development with geothermal and the Aman Hotel which will bring a big boost to the island's Tourism sector," said Mr. Parry.
After running a tight campaign, for the last several weeks, Premier Parry seemed relaxed and jovial as he spoke to listeners who continued to congratulate him on a job well done and expressed hopes of continued performance by the Nevis Reformation Party-led Administration.