New Adult Education Centre reflects NIA's continued commitment and development of Barnes Ghaut community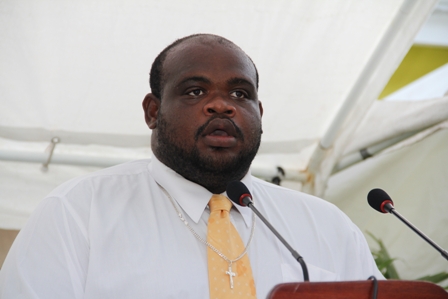 NIA-CHARLESTOWN NEVIS (September 27, 2011) — The construction of a new Adult Education Centre in Barnes Ghaut Village, reflected the Nevis Reformation Party-led Nevis Island Administration's (NIA) continued development and commitment to infrastructural development and people empowerment in Barnes Ghaut to ensure upward mobility. That view was expressed by Villager Mr. Rohan Isles, when he chaired the official handing over ceremony of the facility on September 21, 2011.
Mr. Isles, also a practising teacher at the St. Thomas Primary School, said the Community of Barnes Ghaut, though small in size, had a rich history of producing remarkable men and women, who had contributed to national building.
"Eglantine Duberry, John Jarvis,Wilfred Hamilton and Mr. Liburd in Culture. Lydia Claxton and Dianna Browne in Netball, Deon Daniel and Elvis Hamilton in Business. Dawn Jeffers, Melanie Huggins, Norlene Smithen and Patricia Hanley in Education. Father Flemming and Rudolph Smithen in Religion. Tungi in Music [and]Tafari Ayinde in Poetry.
"We have produced Police Officers, Lawyers, a Premier, Teachers, Farmers, Cultural Icons, Musicians, Bankers, Sports stalwarts, Engineers, Entrepreneurs, Electricians, Contractors and Builders and Service Industry workers. Currently studying are two Doctors, one in General Medicine and the other in Forensics and additionally one in Computer Engineering," he said.
According to Mr. Isles, Barnes Ghaut had accomplished all its notable people over the years, in the absence of an Adult Education Centre. He said that was testament to the tenacity, learn-ability, confidence and educational capabilities of the people of his village.
He noted that the Government had seen it fit to afford everyone the opportunity to forge lasting careers and improve income intake through educational advancement, thus the investment in an adult education centre for the village.
Notwithstanding, Mr. Isles used the opportunity to urge young and old in the community to make full use of the Centre.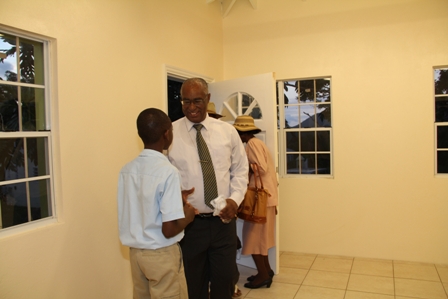 "Show Premier Parry, the Basic Needs Trust Fund, Caribbean Development Bank and the Canadian International Development Agency that their energies and monies were well invested.
"Also, I implore you to make good use of the Social Transformation Department by asking for programmes which I am sure the good Minister has stacked up waiting to unveil," he said.
In conclusion, he asked all in the community to guard the new facility zealously in order to safeguard the legacy of the people of Barnes Ghaut.
"Finally guard this edifice as if it is your personal home, cherish it and protect it so as to ensure the continuity of Barnes Ghaut legacy, where we produce only the best," he said.
The Barnes Ghaut Adult Education Centre was a sub project of the Basic Needs Trust Fund with funding from the NIA, Government of St. Kitts and Nevis, the Caribbean Development Bank (CDB) and the Canadian International Development Agency (CIDA).