Swedish Ambassador to the Caribbean pays courtesy call on Nevis Premier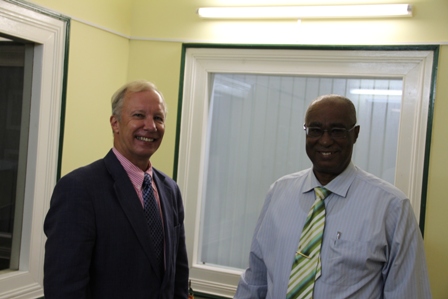 Charlestown, Nevis–(Wednesday, September 27th, 2011) Sweden's Ambassador to the Caribbean His Excellency Mr. Claes Hammer paid a courtesy call on Nevisian Premier, the Hon. Joseph Parry at his Bath Hotel office on Monday. It was His Excellency Hammer's first official visit to Nevis.
At the end of a cordial meeting Premier Parry spoke with the Department of Information about the relationship forged.
"I am pleased to meet with Mr. Hammar and I hope the relationship formed here today continues to grow," said the Hon. Joseph Parry.
The two officials discussed a number of matters including renewable energy. Mr. Hammer commented that he was pleased to see Nevis ahead of Sweden in the way of development of Geothermal, an energy source that the Scandinavian country will seek to utilize in the near future.
"I have been keeping abreast of Nevis' work with geothermal and I am pleased to see all the effort that the island has put in place to make the renewable energy a regular electricity source," said the Swedish Ambassador.
Ambassador Hammar has had a long history of serving Sweden on overseas duties. He has served in Brazil, South Africa and the United States of America.