New Nevis Solid Waste Management Authority Manager pledges more efficient service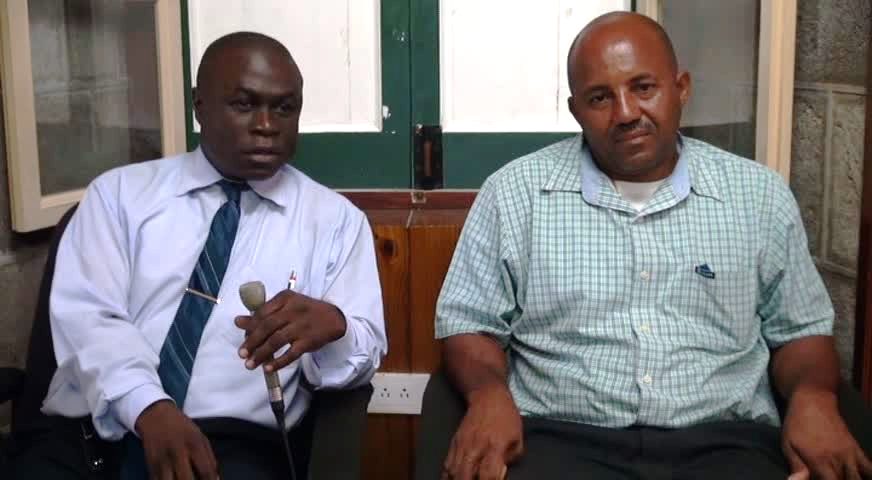 NIA CHARLESTOWN NEVIS (APRIL 22, 2015) Newly appointed General Manager of the Nevis Solid Waste Management Authority Andrew Hendrickson, during a recent interview with the Department of Information pledged his dedication, along with his management team, to provide a more efficient service for the enhancement and beautification of the island.
"We are coming with a new outlook and new approach to solid waste management. Our intention is to be proactive…
"I think that we will be able provide a more efficient service to the betterment and beautification of Nevis," he said.
Hendrickson also announced the commencement of a beautification and clean-up project which would enhance the appearance the Long Point landfill. He appealed to the public for their assistance to do so.
"We have embarked on a new initiative at the landfill and it is called the Landfill Beautification and Clean-up Programme. Essentially, we have employed two operatives who are responsible for the general maintenance of the grounds…Certain areas will be demarcated by flowers and hedges.
"What that means is that we are endeavouring to make the land fill a friendlier place, a more pleasant place to be and friendlier in terms of the eco system. As a result, I'm appealing to the public. Those of you who have cuttings or slips of plants that would be resistant to stray animals, we would appreciate if you would make a donation or two and we would be happy to plant them," he said.
Hendrickson also used this opportunity draw attention to the issue of illegal dumping. He stated that the practice was an island wide problem, in which persons try to discard larger items such as refrigerators and washing machines in areas other than the legal landfills.
He also said that the Nevis Solid Waste Management Authority would be working hard to enforce the laws as they pertain to illegal dumping.
Hendrickson was accompanied by the Authority's newly appointed Operations Manager Dennis "Rudy" Browne, who is responsible for the day-to-day operations at the land fill.
Brown used the opportunity to provide the new schedule for garbage pick-up throughout the island which is as follows:
4 a.m. Charlestown
Monday
Main Street, Cedar Tree, Prince William Street, Market Street, Bay Front, Happy Hill Drive, Chapel Street, Old Hospital Road, New Cut, Ramsbury and Craddock Road
Tuesday
Main Street, Cedar Tree, Prince William Street, Market Street, Bay Front, Low Street, Government Road, Pump Road, Lower Farms, Bath Plain and Bath Village
Wednesday
Main Street ,Cedar Tree, Prince William Street, Market Street, Bay Front, Happy Hill Drive, Pinneys Road, Hamilton, Stoney Grove and Grove Park
Thursday
Main Street, Cedar Tree, Prince William Street, Market Street, Bay Front, Happy Hill Drive, Chapel Street, Old Hospital Road, New Cut, Ramsbury and Craddock Road
Friday
Main Street, Cedar Tree, Prince William Street, Market Street, Bay Front, Low Street, Government Road, Pump Road, Lower Farms, Bath Plain and Bath Village
Saturday
Cedar Tree, Prince William Street, Market Street, Bay Front, Happy Hill Drive, Pinneys Road, Hamilton, Stoney Grove and Grove Park
4 a.m. (St. Thomas' and St. James)
Monday
Camps, Combermere, Rawlins Pasture, Blue Cresents, Barnaby, Liburd Hill, Mt Lily, Fountain, Spring Hill, Westbury and Cades Bay
Tuesday
Cotton Ground, Vaughns, New Castle, Shaws Road, Yamseed Road, Jones Estate, Nisbett Settlement
Thursday
Camps, Combermere, Rawlins Pasture, Blue Cresents, Barnaby, Liburd Hill, Mt Lily, Fountain, Spring Hill, Westbury and Cades Bay
Friday
Cotton Ground, Vaughns, New Castle, Shaws Road, Yamseed Road, Jones Estate, Nisbett Settlement, (BINS)
8 a.m. (mixture)
Monday

Butlers. Bricklin, Maddens, Jessups, Garricks, Paradise Estate, Fern Hill and Barnes Ghaut
Tuesday
Brown Hill, Prospect, Marion Heights, Upper Stoney Grove and Braziers
Wednesday
Cherry Garden, Back Roads Prospect and Farms
Thursday
Butlers, Bricklin, Maddens, Garricks, Paradise, Fern Hill, Barnes Ghaut and Jessup
Friday
Brown Hill, Prospect, Braziers, Marion Heights, Upper Stoney Grove, Farms, Cherry Garden and Braziers
12 p.m. (Gingerland)
Monday
Zion, Webbs Ground, Harris', Hickman's, Fothergill's, Fenton Hill, Golden Rock, River Path, Hull Ground, Pond Hill, Zetlands, Rawlins, Stoney Hill and Hardtimes
Tuesday

Church Ground, Morning Star, Brown Pasture, Burden Pasture, Cole Hill, Beaumont, Cox, Montpelier, Beach Road, Hermatige , Hamilton, Victoria Road, Cane Garden, Fig Tree Lane and Barziers
Wednesday

Meads Pasture, Matchmans, Rices, Hanley's Road, Market Shop, Chapel Alley, Taylors Pasture, Maynard Ground, Old Manor and Clay Ghaut
Thursday
Zion, Webbs Ground, Harris', Hickman's, Fothergill's, Fenton Hill, Golden Rock, River Path, Hull Ground, Pond Hill, Zetlands, Rawlins, Stoney Hill and Hardtimes
Friday
Church Ground, Morning Star, Brown Pasture, Burden Pasture, Beaumont, Cox, Montpelier, Cole Hill, Matchmans, Rices, Hanley's Road, Market Shop, Chapel Alley, Taylors Pasture, Maynard Ground, Old Manor, Clay Ghaut, Beach Road, Hermitage, Hamilton, Victoria Road, Cane Garden, Fig Tree Lane and Braziers