New Prospect Bridge reopens, Public Works Department lauded for a job well done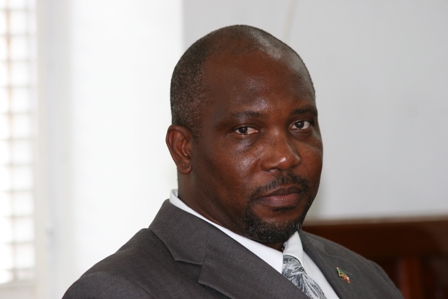 Minister of Communications and Works on Nevis Hon. Carlisle Powell (file photo)
CHARLESTOWN NEVIS (December 20, 2010) — After just over a month of inconvenience, the motoring public on Nevis has much to be thankful for with access to the new Prospect Bridge on the Island Main Road. The area was reopened a week ago after a six month closure for intensive rehabilitative work by the Public Works Department in the Ministry of Communications and Works.
The area was severely damaged by extensive flooding in October, during the passage of an area of disturbed weather which drenched the island. Major damage was also done to the roads at Fountain Ghaut, Brown Pasture and Cox
In a recent interview with the Department of Information during a site visit, Minister responsible for Communications Works and Public Utilities in the Nevis Island Administration Hon. Carlisle Powell said he was pleased with Public Works' solid work on the project which had saved the NIA a significant amount of capital.
"Not only have they been able to build a magnificent bridge but they have also been able to do quite a bit a bit of work in terms of the drainage which we will probably address later…I want to say that the general public, based on the comments that we have had, appear to be very well pleased with what was done.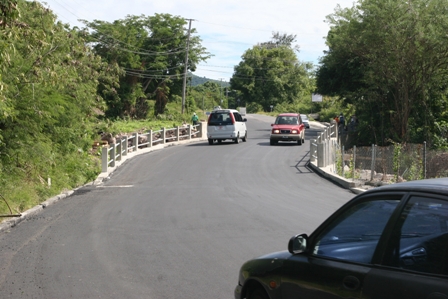 The New Prospect Bridge looking toward Gingerland
"We don't have the final costing yet. Director Pemberton has advised me that we still are due some bills which are coming in but suffice it to say that I have been told that we should save a significant amount of money based on Public Works doing it as opposed to what we got offered as a tender to do this project," he said.
The Minister further explained that prior to the project, it was out to tender when Director of Public Works Mr. Raoul Pemberton along with his Engineers presented their estimate and assured that they could handle the scope of works.
Meantime, Project Manager Mr. U-Thant Liburd who was also on hand, gave an overview of the work his Department engaged in during six weeks to deliver the final product.
"This was a major undertaking for the Public Works Department. Our original intention was not to do all that you see here. We originally planned a slab over to protect the culvert that was there originally but when we did our excavation and we got to the culvert that was there, we found that there was some structural deficiencies and in the best interest of the public, we decided, along with Mr. Pemberton, that it was better for us to do something that would be here for the long term. Since we were disturbing the road we decided to just upgrade it one time.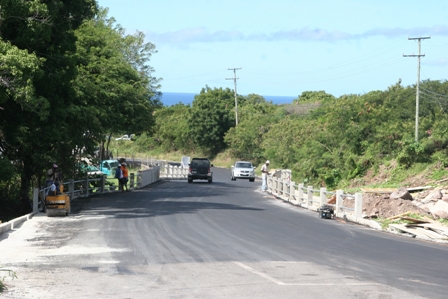 The New Prospect Bridge looking toward Charlestown
"So what we ended up having is a double cell culvert with a nine feet span. We had an eight foot span culvert originally so now we have more than one and a half times the capacity. This should be able to control everything that is coming from the ghaut. In terms of what comes off the road, we are still looking into what we will do below there because water is going to travel on the road all the way down but this [new culvert] should take care of everything that is coming down the ghaut. It shouldn't have that problem anymore," he said.
Mr. Pemberton added his satisfaction with the project but it was not without its share of challenges. He noted that the first hurdle was to address a Cable and Wireless line which ran across the mouth of the culvert but after some analysis and evaluation it was decided raising the culvert was a necessity.
"When we started digging we realised what we expected to be there was not there. So we had to go back to our drawing board and do a total redesign. I think in the initial stage we were a bit unsure what exactly we were going to do. We sat down for a few days and decided this is what we are going to do. So after we got through that first hurdle, it was fairly ok in terms of the work process from there on.
"I must say though, the initial estimate that we had would have been just about $150,000 to $200,000 less than the bid that we had but we have done one and a half times the amount of work that we initially planned, so the scope of works changed initially…We undertook this work in six weeks. We had already planned six weeks for the initial plan but then we amplified it and we still were able to reopen the road within those six weeks. So I must commend Mr. Liburd for his hard work. I must also say thanks to the team in general at the Public Works Department they did a pretty good job," he said.
The Director said though the road way had reopened, work was not complete since there was still some window dressing and remedial work to be done but the free flow of traffic would not be hindered.