New Welfare System to be implemented on Nevis, says Social Development Minister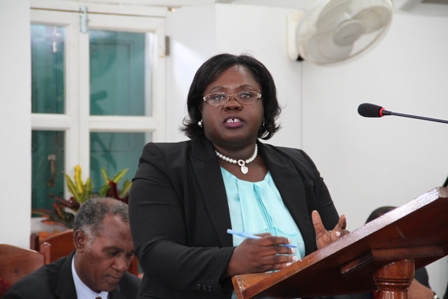 this is a test
NIA CHARLESTOWN NEVIS (May 01, 2013) — The Welfare System which has been on Nevis for some time will soon be replaced with one that will help persons who qualify for government's assistance into productive members of the community.
Junior Minister responsible for Social Development in the Nevis Island Administration (NIA) Hon. Hazel Brandy-Williams, made the announcement when she delivered her first official presentation in the Nevis Island Assembly Chambers, during the 2013 Budget debate on April 29, 2013.
"Shortly Mr. President there will be the implementation of a pilot programme on the new National Social Protection Strategy… We will now move from a welfare hand out system to a system where we can foster independence, encourage self sufficiency and self sustainability.
"Mr. President over the past six years we have seen Nevisians being introduced to a form of lifestyle where it was handouts, free for all instead of empowering persons to work to seek gainful employment and to become self sufficient. Persons have been encouraged not to work but to get pay. That is a culture that has been adopted over the last six years Mr. President," she said.
Mrs. Brandy-Williams, who was critical of the existing Welfare System, said the new method once introduced, would put an end to persons benefiting from the system over and over and would avoid generation after generation coming into the system.
"We want to embark on a new strategy to have these persons empowered, trained, educated so eventually they can come off of welfare and this is the new system that will be implemented shortly," she said.
Meantime, the Minister also briefly pointed to another project, this time funded by the United Nations Educational, Scientific and Cultural Organization (UNESCO) which was geared toward persons with disabilities.
"Over the years Mr. President, there has been no set policy for assisting persons with disability. Very shortly such a programme will come on stream," she said.