NIA and Partners to establish a Urology Centre on Nevis by year end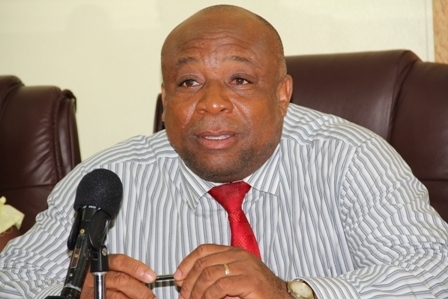 NIA-CHARLESTOWN NEVIS (January 24, 2012) —
The Nevis Island Administration (NIA) under the leadership of Premier Hon. Joseph Parry continues to upgrade its health service with the Ministry of Health's newest – the establishment of a Urology Centre by year end.
Minister of Health and Deputy Premier of Nevis Hon. Hensley noted that the Centre would be a collaborative effort with Urologist Dr. Dwayne Thwaites and supporters and on completion would offer a variety of urological procedures available for Nevisians and others outside of Nevis.
"The Ministry of Health is working closely with Dr. Thwaites to establish a Urology Centre. We already have some of the critical pieces of equipment that we need. We have for instance Green Light Laser which is used to vaporise the prostate and Nevis, Cuba and Barbados are the only three countries in the Caribbean which have this Green Light Laser.
"Also we have an Electrohydraulic lithotripsy (EHL) machine which allows you to break up gallstones and we have a Resoscope. What we are working to now is to establish a full suite so that we can engage persons from outside Nevis especially in the OECS sub region to do urological care here on Nevis," he explained.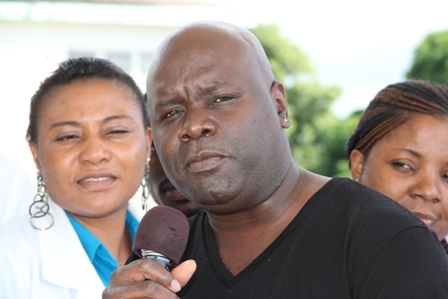 Dr. Thwaites noted that there was the need for such a facility and he had seen an increase in the number of persons who had been attending his annual prostate screening clinic over the past four years.
"We are just in the process where we are trying to set up a Urological Institute, a centre where we can go ahead and do a lot of different urological procedures not that we are not doing that now but we are going to do a little bit more fine tuning of that.
"The Government is going to be assisting us in setting up a very, very fine institution where we could just do as many procedures as possible again with the supporting staff. I must say thank you to everyone again. I know everybody thinks I am the guy up front but I tell you I can't do this by myself. I have a very, very good team that comes out and make this thing a smooth process," he said.
According to the Urologist, in 2009 the first year of the screening clinic on Nevis there were approximately 80 patients. The following year participation increased to about 120 men, in 2011 to 240 and at the most recent clinic on January 14, 2012 the number increased to 376.
In response to a question, Dr. Thwaites said that prostate cancer was prevalent in the Caribbean and said it was recommended that if one was of African descent they should probably begin screening earlier than the Caucasian population.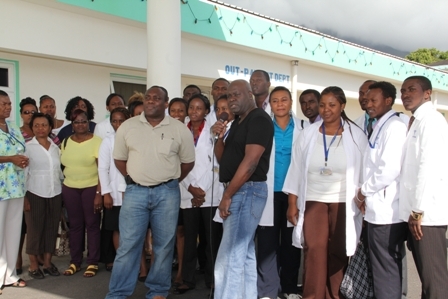 "They want you to start at the age of 40. Some people recommend that you do the screening every year. The American Urology Association (AUA) has now set out a standard way. They are saying you could do it [screening] initially at 40 and you could come back at 45 then you get to 50 then you start to do it on a yearly basis.
"Because of such a variety and variation, the fact that it is so high in the Caribbean especially Jamaicans, the West Indian population has a very high, high prostate cancer prevalence, so I still believe we can go ahead and do it every year," he said.
Dr. Thwaites further added that if one had a strong family history of being African America or being just of African descent and had a strong family history of prostate cancer they should actually begin screening at the age of 35. However, if one started screening at 40 years they should try to have them done on an annual basis and in so doing not miss any irregularities.