NIA assured of Federal Ministry's close working relationship for greater benefit offered by aviation industry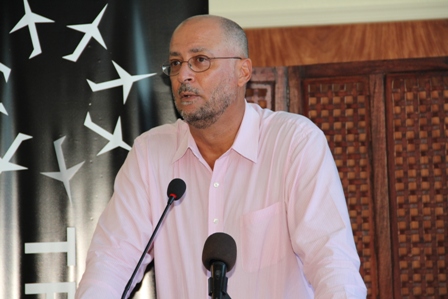 NIA CHARLESTOWN NEVIS (November 05, 2013) — St. Kitts and Nevis Minister responsible for International Transportation Hon. Richard Skerritt, assured the Nevis Island Administration (NIA) of the Federal Ministry's close working relationship so that both islands would benefit from the opportunities in the aviation industry.
Mr. Skerritt's comment came while he delivered remarks at an inaugural ceremony which marked the launch of Tradewind Aviation's newservices to Nevis via San Juan, at the Vance W. Amory International Airport at Newcastle on November 02, 2013.
"It is really then just for me in these few words to say how proud I am to have been part of this process of bringing approval for this Tradewind service to and from San Juan and just to assure you that the Federal Ministry responsible for International Transport, will continue to work very closely with the Nevis Island Administration and with Tradewind and with others, to make sure that we optimise the opportunities that aviation can bring to both St. Kitts and Nevis," he said.
According to Mr. Skerritt, his responsibilities included Civil Aviation and all matters which dealt with landing certificates and the entire process of regulating the civil aviation industry and since he had taken up those responsibilities the industry had seen its share of ups and downs. Notwithstanding, under his watch, the Federation had made strides.
"I am happy to say that we have been able to make a lot of strides in the Federation to improve airlift in and out of the Federation in very difficult and challenging times.
"During that period especially in the last few years, I don't need to tell you what has happened to fuel prices and as a result what has happened to the cost of travel and I don't need to tell you that so many airlines have gone out of business in that time and that capacity has generally been cut to improve profitability and to get rid of unprofitable routes," he explained.
However, Mr. Skerritt noted that despite the challenges in the industry, he and Deputy Premier of Nevis and Minister of Tourism Hon. Mark Brantley had held several discussions and described Tradewind's announcement to make scheduled flights to Nevis, as a milestone that should be celebrated.
"Minister Brantley who has just taken up office not long ago is himself now on a learning curve about this industry and we have had several discussions and every day there is a new challenge. So when a company like Tradewind announces that they want to fly to Nevis, clearly it is something to celebrate…I know that it's a bold entrepreneur that starts a service especially in a small market.
"Fortunately Tradewind is a high product operating into a high quality destination and will be dealing in a market place where price is not quite as sensitive as it is in others and that the demand is fairly stable," he said.