NIA committed to installing dialysis unit on Nevis; partners with Renal Society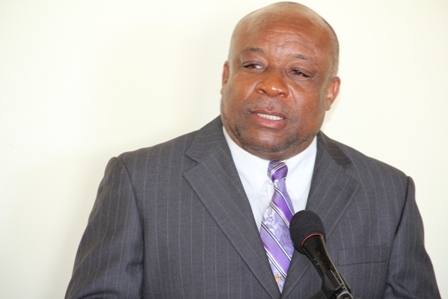 NIA CHARLESTOWN NEVIS (March 06, 2012) —
Minister of Health in the Nevis Island Administration (NIA) Hon. Hensley Daniel said the Administration was aware of the immense financial burden kidney failure represented and in the circumstances, had broadened its partnership to include the Renal Society, a local civic minded organisation on its journey to provide a dialysis unit on Nevis.
Mr. Daniel made the disclosure on March 05, 2012 when he delivered an address on NTV Channel 8 on March 05, 2012,, in support of a week of activities organised by the Renal Society under the theme "Donate Kidneys for life Receive". The week's activities will help to raise awareness of renal care and secure a greater commitment from the public.
"The Government's arrangement with the International Triage out of Miami allows for two retrofitted 40ft marine containers, two Frisenius Dialysis Machines, two patient treatment chairs, one water filtration system, one waste water tank, one furnished nursing station, reception and restroom areas, plumbing and electrical work to support dialysis machines, all of this at a cost of US$200, 000," he said.
According to the Health Minister, the NIA was committed to the installation of a dialysis unit on Nevis but the support of the entire society was needed in that venture.
He reminded all, that given the cost of dialysis treatment, it would become imperative for the introduction of a National Health Insurance Plan. Mr. Daniel contended that it was only through regular contributions to such a plan that citizens could demand that level of tertiary care.
"Kidney failure is yet another reason for the introduction of a health insurance plan. The Health insurance Plan is one sure way of helping to meet the cost of treating persons who experience kidney failure," he said.
The Minister explained that persons who experienced kidney failure faced immediate financial challenges and expounded on the cost of treatment.
"These persons need to receive at least three treatments per weeks to dialyse the blood. The treatment is facilitated by a dialysis machine which cleanses the blood. The minimum cost per treatment is $1,500 as such, with three treatments a week it results in $4,500 per week which translates into $18,000 per month and $216,000 per year for one person.
"Given the cost it behoves all of us to work assiduously to prevent kidney failure. There are very few persons who can afford to meet this cost. Many persons have had to travel overseas for care while others have succumbed to the disease," he said.
The Health Minister added that the NIA was mindful of the cost of dialysis over time and had been in discussions with the International Triage in an effort to connect with hospitals and doctors in Latin America. He said the move would facilitate kidney transplants, since the cost of a transplant was far less than long-term dialysis treatment.
Mr. Daniel invited the public to support the Society's activities and to use them to move the range of care further along which focussed on the improvement of diets and increased exercise.
"We join with all our partners in the private sector the public sector and civil society to celebrate the week of activities. Collectively we can strengthen the coping mechanisms of those family members who have to deal with the challenges presented by renal failure on a daily basis.
"I am persuaded that with strategic positioning we can marshal the required financial and human resources needed to help persons cope with renal failure. May God grant us the strength and courage so to do," he said.
The Health Minister further stated that with some 500 diabetics in Nevis, it was reasonable to assume that some persons would experience renal failure and therefore the Ministry of Health, through its Health Education and Health Promotion Unit, had been working with children, youth and senior citizens to prevent and control diabetes.
"We still urge the consumption of water over aerated beverages, we still urge a reduction in the consumption of sweet foods and we have developed a dietary guideline with the sugar mill concept to allow for the adaptation of balanced diets.
"What we are seeking to do through the Health Education and Health Promotion Unit is to bring about a greater propensity to consume healthy diets with vegetables, water and balance proteins and carbohydrate intake," he said.
The Renal Society was established in the late 1990s to help persons suffering with kidney disease. The Organisation has provided social and financial support to a number of persons over the years and planned this week's activities to sharpen the focus on renal care.
Activities which began on March 4th with a Church Service at the Eden Brown Church of God, was followed by the Minister of Health's address. On March 6th there will be a panel discussion on Von Radio's Let's Talk Programme from 8pm-9pm.
On World Kidney Day March 8th, there will be a public lecture by Dr. Bailey Capao at the Red Cross Conference Room from 1-3pm. A Health Fair will be hosted by Renal Society members on March 9th at the Memorial Square from 9am-3pm and on March 10th the members will be on Choice Radio's Good Ole Days programme from 9am-10am.