Senior citizens at Nevis' Flambouyant Home join information highway
NIA CHARLESTOWN NEVIS (March 08, 2012) —
Senior Citizens at the Flambouyant Home on Nevis now have the opportunity to join the information highway, with a new lap top computer donated by the St. Kitts and Nevis Circle of Care, a non profit organisation of the Federation's nationals based in Canada.
In a brief but significant handing over ceremony at the Nevis Island Administration's (NIA) conference room in Charlestown on March 05, 2012, Minister of Health Hon. Hensley Daniel who is also responsible for the welfare of the island's senior citizens welcomed the gesture.
He told the Canada based Organisation's Representative Mr. Jean Van Eeden that the donation should be viewed as an attempt to bridge the digital divide as it related to the seniors on Nevis.
"We have them playing pan, there is a pan orchestra and the next level now is to have them on the computer. I think the senior citizens in Nevis don't have to worry about growing old, they will grow old gracefully," he said.
The Minister had high praise for the Organisation's President Mrs. Jennet Maynard and the members of the group and pointed to other areas in which the group had assisted the seniors of Nevis.
"I want to record my thanks to Jennet Maynard and her team in Canada Circle of Care. They facilitated training of our Senior Citizens caregivers last year and it was quite good and helped us to better manage and care for our seniors.
"Jennet does not allow anybody to come to Nevis and not speak to the care of senior citizens and we want to record our thanks to her," he said.
Mr. Daniel told Mr. Van Eeden that the NIA had embarked on programmes to help young and old on Nevis to bridge the digital divide because they wanted to take Nevis to a level in which everyone was computer literate.
"We have built a number of community centres, we have existing programmes and we would like to work with you and our Information Technology team to develop software programmes, to develop the kind of programmes that would make us feel like we are on the information highway.
"I believe the provision of the computer for senior citizens will certainly raise their interest and I believe the programmes that we are now doing will be expanded because seniors will come. Just late last year we were doing a basic computer course at Bath [Village] and there were many persons there who were over 60 and 70 years. So this is not going to be seen as something new for them because they have done some basic computer training," he said.
According to Minister Daniel, the donation was another attempt in the partnership between the St. Kitts Nevis Circle of Care to bring a level of development with which people were comfortable and which carried along the information highway.
In response, Mr. Van Eeden said the donation of the first computer would be used at the Flambouyant Home in a pilot project. He explained that there were a few reasons why he and Mrs. Maynard thought the computers were important for the seniors.
"One of it is to communicate with family overseas. For instance Skype phone calls, photos, emails with pictures of grandchildren and these kinds of things Also Jennet is looking in a direction of activation. It means to keep people's mind active.
"One of the things is that they can play Solitaire or Bingo or whatever they can play on there and that's fine for hand and eye coordination," he said.
Notwithstanding, Mr. Van Eeden hastened to add that computers were not replacements for people and when one sat in front a computer it was not a social activity. However he said a computer was non judgmental and kept the mind active.
"A computer is non judgmental and if it takes a whole day to try colouring a picture, the computer won't mind and when you are done, you can always go visit your friends again and play with them something else but keep your mind active.
"So I think in the recovery field…there is a lot of exploration that we can still do. That is why I am here and we will see how this goes for a few months and then we can adjust further and look at the different hardware and also software platforms that align with the Ministry," he said.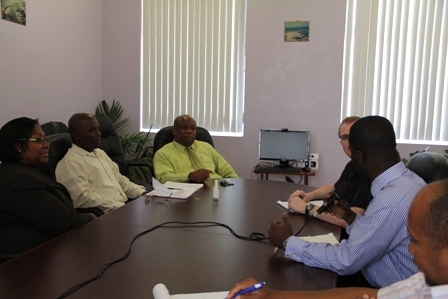 Head of the Information Technology Department in the NIA Mr. Quincy Prentice who was present at the ceremony said seniors were no different from younger citizens and needed to access technology and communicate with others.
"You never stop learning and just because one is a senior citizen, it does not mean that they can't learn as well. The computer as we know is one of the greatest tools that can aid in someone's personal development.
"From a technical perspective, I think it is definitely a good gesture I am going to give you my assurance that the devices would be put to maximum use. We definitely have the technical resources here on island to be able to ensure that the devices are well maintained and they are kept running through their useful life," he said.
Also present at the ceremony was Permanent Secretary in the Ministry of Social Development Mr. Alsted Pemberton who chaired the event, Systems Analyst Mr. Geran Browne and local Barrister Ms. Leonora Walwyn who accompanied Mr. Van Eden.