NIA continues to bolster health care services offered at Alexandra Hospital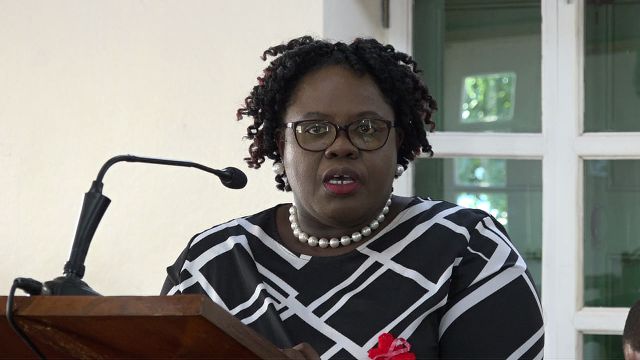 NIA CHARLESTOWN NEVIS (December 13, 2018) — In its bid to continue strengthening the human resource capacity to improve health care at the Alexandra Hospital on Nevis, the Nevis Island Administration (NIA) through the Ministry of Health, added the services of qualified personnel to the existing staff at the facility in 2018.
Hon. Hazel Brandy-Williams, Junior Minister of Health spoke to the new additions at the island's main health care facility at a sitting of the Nevis Island Assembly on December 06, 2018.
"At the Alexandra Hospital, we have sought to strengthen the human resource capacity, and so for this year we have seen the addition of two new General Physicians. We have two trained nurses who have just come back from studies both attaining Master's Degree level. We have a Radiographer and an Internist who has just returned as well," she said.
Mrs. Brandy-Williams also noted that for the first time in the hospital's history, a medical doctor is stationed at the facility at all times, to attend persons seeking medical attention.
"We can now boast of a 24 hour medical doctor coverage at the Outpatient Department. It means that if you were to go to the Alexandra Hospital at 10 o'clock at night, at 2 o'clock in the morning, at 4 o'clock in the morning there will be a doctor on staff to deal with all medical issues.
"I am certain that…the entire general public will agree with me that this is a major accomplishment for us as a government, and for health care and health service in Nevis," she said.
The health minister also pointed to the ongoing multi-million dollar hospital expansion project earmarked for completion in 2020, which she believes will enhance the services offered at the island's main health care facility once it is completed.
"This is the single most financial intensive project under the Ministry of Health at this time and when this project is completed, we will see a new Radiology Unit, a Lab and Physiotherapy Units, a Dialysis Unit, two operating rooms, six private wards, a conference room and facilities for all on call staff.
"This upgrade will improve the diagnostic service at the hospital," she said.