NIA doing all it can to enhance new multi-purpose facility in Gingerland – Minister Evelyn says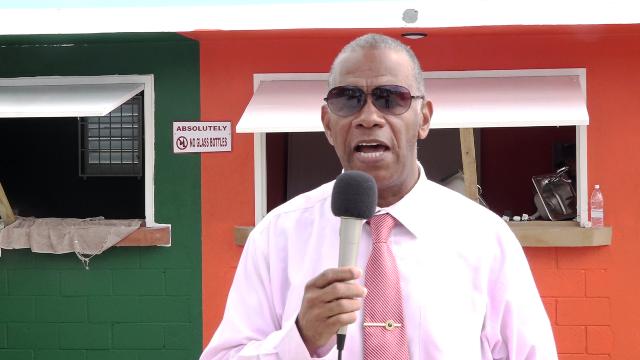 NIA CHARLESTOWN NEVIS (November 27, 2019) — Hon. Eric Evelyn, Minister of Social Development in the Nevis Island Administration (NIA) says the administration continues to do all that is necessary to enhance the ambiance at the new multi-purpose facility at Market Shop in Gingerland.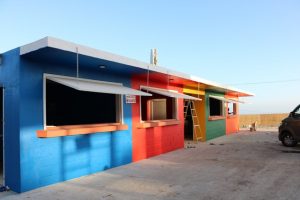 The minister made the comment during a site visit on November 25, 2019. He pointed to the most recent addition during the finishing-up phase leading to the grand opening and naming ceremony scheduled for November 28, 2019, at 6 p.m.
"In terms of our enhancements we looked at the area and we saw, in collaboration with the police, we needed some extra lighting and so we would have reached out to NEVLEC [Nevis Electricity Company Limited] to ensure that the surroundings of the facility are well lit…
"I would have made the request this past Friday morning for the additional lighting in the area coming up the Rawlins Road, the additional lighting going across to the Gingerland Secondary School and by Friday night the lights were up," he said.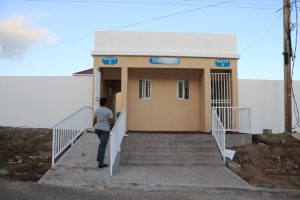 Mr Evelyn who is also the Area Representative for the Parish of St. George's and the driving force behind the project, thanked NEVLEC for acceding to his request and for the prompt response. He also assured the public that the additional lighting would enhance security at the venue.
"I want to say a very big thank you to NEVLEC, the management and staff there for responding so quickly to ensure that we have a facility that is well lit, and of course security we know would be of absolutely no concern.
"So once again a very big thank you to NEVLEC for responding so very quickly to have the surroundings very well lit so when patrons come here they can feel secure, and generally all who are here can feel secure in this area," he said.
The multi-purpose facility has been designated as the home of Gingerama, an annual village festival within the Parish of St. George's. Thursday's grand opening and official naming will be twinned with the three-day festival's official opening event.
On the second night, Friday, November 29, will be Ginger Fete from 8 p.m. On Saturday, November 30, will be the Ginger Jam from 6 a.m. and later the S.L.Horsford's Miss Gingerama contest from 8 p.m. On Sunday, December 1, will be a Cricket/Fun Day at the nearby Hardtimes Grounds from 1 p.m. and later the TDC Miss Gingerette Pageant takes place at 7:30 p.m. The final event will bring the curtains down on the 2019 festival.