NIA honours local Sportswomen; Grell-Hull-Stevens Netball Complex pavilions named in their honour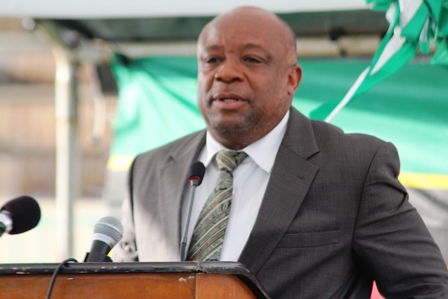 NIA-CHARLESTOWN NEVIS (September 22, 2011) — Deputy Premier and Minister responsible for Sports on Nevis Hon. Hensley Daniel, issued a passionate plea to Nevisians for continued support to the Nevis Island Administration's (NIA) two year old thrust, to recast the island's history in their image.
Mr. Daniel, who is also responsible for the Ministry of Social Development, was at the time delivering remarks on September 16th, National Heroes Day 2011, at the official ceremony to name the pavilions at the Grell-Hull-Stevens Netball Complex in honour of three Nevisian women who made their mark in international and regional netball.
The Player's Pavilion was named after Ms. Jeanette Grell Hull, and two stands one each after Mrs. Lydia Claxton and Ms. Cresentia O'Flaherty.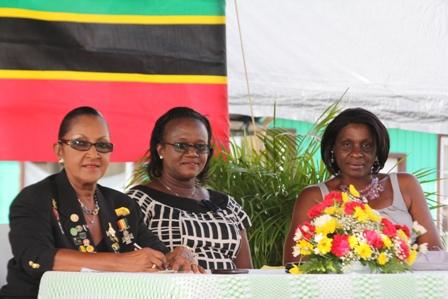 "We began the series of events by remaining important landmarks by Nevisians who deserve to be recognised and whose names deserve to be written in our history and last year we decided that we will focus heavily on sports…
"I urge us all to continue to support this effort because we are doing this to make sure that our society does not miss the great opportunity to celebrate its sons and daughters. We are doing this because we are being bombarded with a whole range of a new set of values and a new set of people … coming from the North Atlantic and we would like our young people to feel that Jeanette Grell-Hull, Lydia Claxton and Cresentia O'Flaherty are their heroes and treat them as such," he said.
Mr. Daniel said the NIA did not intend to soon end naming the island's landmarks in honour of other outstanding persons and announced the areas that had already been earmarked to be named after worthy Nevisians.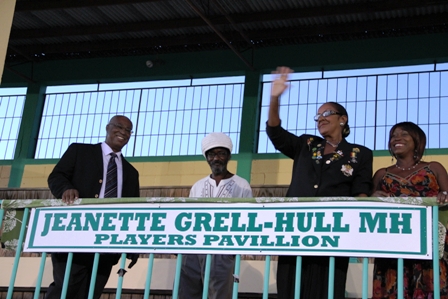 "We decided we will rename the Cotton Ground Playing Field after Derrick Parry, a part of Government Road after Stewart Williams another part after Carl Tuckett and a section of the road in the middle of Cotton Ground after Livingston Sargeant.
"This we are doing to send a very clear message to the rest of the citizens of Nevis, that should you work assiduously and as well as these people you too will be honoured," he said.
The Minister referred to the programme run by the Department of Community Development, as one which would ensure that Nevis never looked the same again since names of the island's local people would adorn the landscape.
Notwithstanding, the Sports Minister explained that the ceremony was twofold and was also intended to reinvigorate the island's people, to bring home to them a sense of ownership and belonging and to nurture a spirit of patriotism and national pride.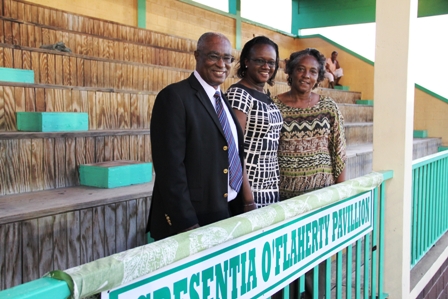 He added that it engendered the "me too" philosophy that if one worked hard, they too would be celebrated and honoured.
Mr. Daniel further explained that the NIA's decision to honour persons for their contribution to the development of Nevis in sport and other areas was being undertaken at a critical time in the island's development.
"We are doing this at a time when many of our young people seem to imagine that our heroes are people who they never see. We are focussing here on these people so that they know that heroes are actually people who walk the streets and most importantly, heroes who look like them.
"We are accustomed in Nevis over the years to believe that our history, though based in Europe, that the two people we have learnt most to celebrate in Nevis are Alexander Hamilton and Horatio Nelson. None of them who look like most of us and none of them, who we have seen but these here this afternoon, are people who we know, they are related to us and that is what makes this ceremony different from the others," he said.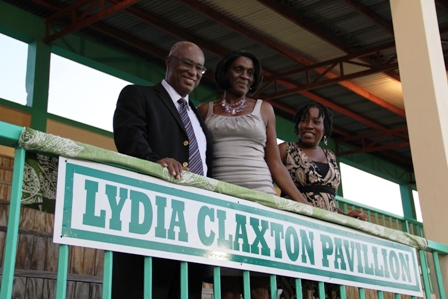 According to Mr. Daniel, the ceremony suggested that the NIA was working to keep the movement toward self reliance, self actualisation and genuine independence. He noted the move was one in the right direction in keeping with what had already been done in other Caribbean islands.
"Three days ahead our 28th anniversary of Independence, we cannot continue to celebrate the people who we don't know and as such we want to recast our society in the image of our local people.
"We are doing the right thing because our Caribbean brothers and sisters have done the same thing. If you go to Antigua you will see the Vivian Richards Street. If you go to Jamaica you will see the Arthur Wint Drive. If you go to Trinidad you will see the Jean Pierre Complex and the Hasely Crawford Stadium and if you go to Barbados you will certainly see the three "W"s Stand of Weekes, Worrell and Walcott. They have celebrated their outstanding sports men and women and we in Nevis, though late, we are doing the same thing," he said.