Premier celebrates 28th Anniversary of St. Kitts/Nevis Independence with Church Service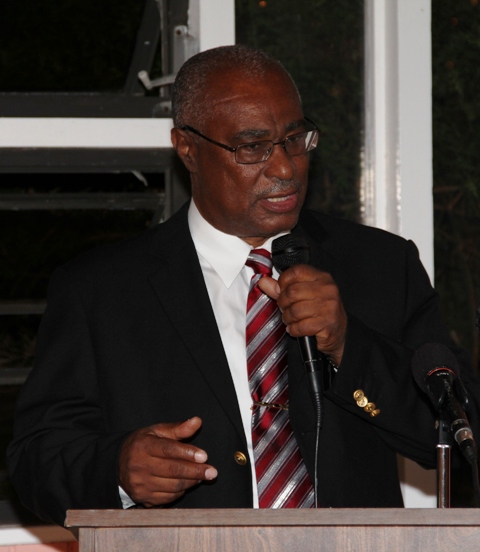 Charlestown, Nevis–(Tuesday, September 20, 2011) "This is a great time to be a Nevisian," Premier of Nevis, Hon. Joseph Parry said when he delivered remarks at a church service in celebration of the 28th Anniversary of St. Kitts/Nevis Independence. The event was held on Sunday, September 18th at the Jessups New Testament Church of God.
"Never before in the history of Nevis has there been so many Government Departments run by Nevisians. In the past many high Government posts were only held by non-nationals," commented the Premier.
The Hon. Joseph Parry lauded the number of Nevisian students presently in Cuba studying Medicine, the largest amount of students ever in attendance at the Sixth Form College in Nevis and the many Nevisian students who were studying abroad, "thanks to the financial assistance of the Nevis Reformation Party-led Administration," he said.
The Anniversary Service was conducted by Pastors Salomie James and Simeon Morton along with Dean of the Anglican Cathedral in Antigua, Father Rudolph Smithen, who gave an inspiring sermon and asked the men of Nevis to take their responsibility of raising children seriously, for the betterment of the community and Nevis on a whole.
Bible readings were led by Government Ministers, the Hon. Hensley Daniel and the Hon. Robelto Hector.
The renowned local Gospel singe,r Ms. Carmella Lawrence led the Harmony Choir, made up of singers which represented a variety of religious denominations from across Nevis. The melodious choir sang "Ride on King Jesus ride on" and "Giants do die", which were both well received by the congregation.
Pastor Jennifer Weekes led the Prayer of Thanksgiving and made a special call for the Premier to join her on stage. While there, Pastor Weekes touched his shoulder and said that she remembered the trying time when the Four Seasons Resort was closed and the Premier ensured that the laid off workers received employment.
Pastor Weekes concluded, "The Premier said that work must be given to those persons who lost their jobs. He said he does not want to see anyone go without food on their tables and that really touched me. I must say, Premier Parry really is a man of the people."
The Service was also attended by other members of Cabinet and a cross section of the public.