NIA Minister Credits Premier for Leadership Style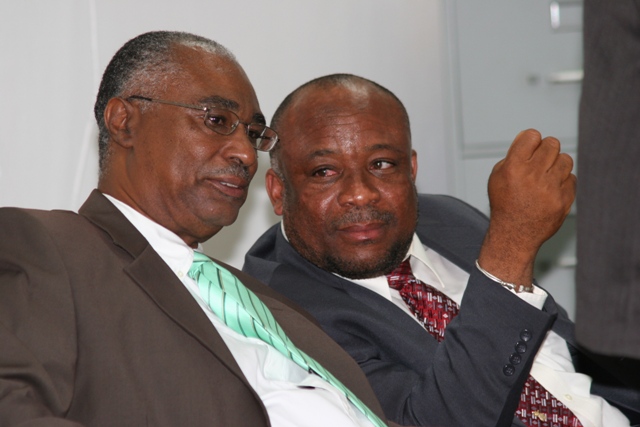 (file photo) Premier of Nevis the Honourable Joseph Parry conversing with Deputy Premier the Honourable Hensley Daniel.
NIA-CHARLESTOWN, NEVIS (January 27TH, 2011) — Nevis' Deputy Premier the Honourable Hensley Daniel is crediting the island's Premier, the Honourable Joseph Parry, for molding him and his Cabinet colleagues into great leaders.
The Nevis Island Administration [NIA] officials, according to Minister Daniel, have "benefitted from Premier Parry's tremendous insight and many years of experience."
As Minister Daniel was at the time addressing patrons at the Jan. 15 Premier's Gala at the Four Seasons Resort, he commented on the numerous meetings and discussions that the NIA's Cabinet had hosted in relation to the resort.
Such meetings, he said, resulted in Cabinet members being versed about various issues around the island.
"We are all learning to be Premiers after having learnt from this Premier. Together, we work very well as a team and all of us can speak equally to any one of the issues that affect the country," he said.
As the minister whose portfolio encompasses direct people-based issues, Mr. Daniel encouraged Nevisians to feel proud that despite the island's size, it had under Premier Parry's leadership, achieved regional acclaim particularly during the years of the global economic crisis.
"As a people, we believe that our Premier ranks equally among anybody anywhere around the world and coming from a small country does not limit our vision and our capacity to implement policies and programmes and I think the people of Nevis must feel equally so that even though we are small, we can match anybody from anywhere," Mr. Daniel said.
With relationships stemming from "school days," the Deputy Premier said he was pleased that his administration had developed leadership.
"The pleasure has been ours to be in his Cabinet. Of course for me, I used to be his [Premier Parry's] student of history and I used to be Mr. Nisbett's and Mr. Hector's teacher of modern languages," he said.