NIA offers incentives to home owners and private security firms to boost crime fighting efforts on Nevis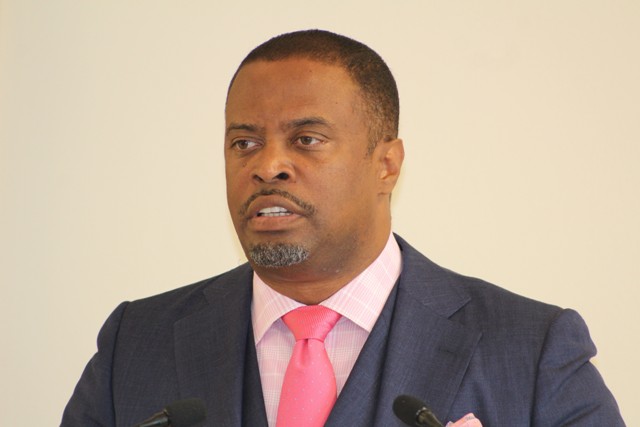 NIA CHARLESTOWN NEVIS  (July 26, 2018) — In its ongoing efforts against crime and to promote greater safety and security on Nevis, the Nevis Island Administration (NIA) has announced new initiatives for homeowners and privately-owned security firms operating on the island which will assist the police.
Hon. Mark Brantley, Premier of Nevis, outlined the concessions granted which he said stemmed from recent meetings with the Police High Command in the Royal St. Christopher and Nevis Police Force, Nevis Division, operators of private security firms and a townhall meeting with homeowners, hoteliers and other interested parties organized by the police, at his monthly press conference held at the NIA conference room at Pinney's Estate on July 26, 2018,
"The Nevis Island Administration has decided to waive all duties, Customs service charge and Value Added Tax (VAT) on home and business security devices which extends to alarm systems, camera systems and motion sensor lighting. This waiver will extend for one year from the period August 01, 2018 to August 02, 2019.
"This is not a new initiative, we have expanded it now to motion sensor lighting… So we are inviting our residents to invest in their own security and the government is partnering with you. We can't afford to buy the alarm systems for you but we are saying, if you buy them we won't charge you anything at all to bring them into the island," he said.
Mr. Brantley, who is also the Minister responsible for Security on Nevis, noted that in the past homeowners had not taken advantage of the initiative but expressed hope that with the added incentives would bring change.
He said the Police suggested to the NIA the initiative is a good idea which would give them added advantage in their crime fighting efforts and would also allow home owners to invest in their own security.  The security systems would also serve as a deterrent to crime and in the event of any criminal activity, they could assist.
Mr. Brantley added that it also extends to privately owned security firms on Nevis, allowing them to install security equipment for their customers.
The other initiative which is directed at the privately-owned security firms, offers incentives for a two-year period from August 01, 2018 to August 02, 2020.
"We have recognized the value of the security firms…We try to encourage them to do more and so as part of our encouragement and partnership…I am proud to announce that we are waiving our Customs duties and VAT on the purchase of specialized vehicles to be used by private security firms in executing their duties.
"Customs Service Charge and Environmental Levy will be payable but the duties and the VAT will be taken off so that security firms can invest in specialized vehicles to assist them in expanding their fleet of vehicles for purposes of patrol," the Premier said.
Mr. Brantley stated that the thinking behind the initiative is to assist private security firms to grow and providing them with the impetus to invest in vehicles to undertake more patrols.
The NIA has also granted relief to licensed security firms for the purchase of firearms solely for use in the execution of their duties since they had complained bitterly about the high cost of importation, which is in the region of 100 percent.
Due to the newly forged partnership, the administration consented to waive Customs duties only on importation of firearms. However, Customs and Service Charge will continue to be payable. The offer takes effect from August 01, 2018 to August 02, 2020.