NIA Officials Recognise Senior Citizen on 94th Birthday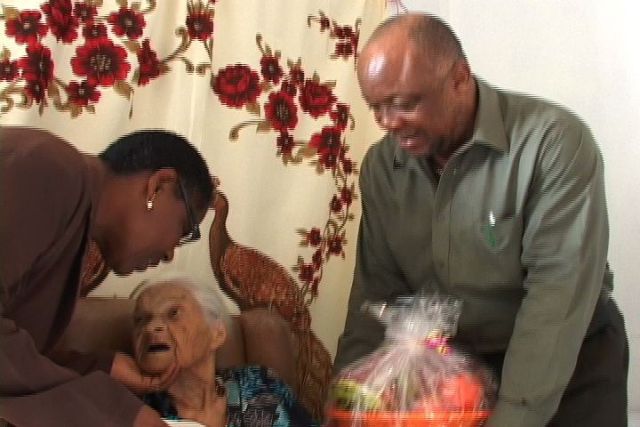 Minister of Gender Affairs in the Nevis Island Administration the Honourable Hensley Daniel presenting fruit basket to Mrs. Enid Mc. Ghokin while Health Advisor Patricia Hanley congratulates the celebrant.
NIA-CHARLESTOWN, NEVIS (January 11TH, 2011) — "Our senior citizens deserve the very best care that there is." This is the belief of Gender Affairs Minister in the Nevis Island Administration [NIA] the Honourable Hensley Daniel.
Minister Daniel, accompanied by former nurse and Health Advisor in the NIA Mrs. Patricia Hanley and in the presence of Canon Alson Percival, last Friday [Jan. 7], solidified the NIA's care for senior citizens residing on Nevis.
At a brief ceremony to mark Mrs. Enid Mc. Ghokin's 94th birthday, Minister Daniel presented a certificate and a fruit basket to the celebrant who resides at the St. Georges' and St. John's Senior Citizens Home in Taylor's Pasture.
The Gender Affairs minister expressed thanks to Mrs. Mc. Ghokin on behalf of his ministry and the NIA by extension and said it was important for senior citizens to feel appreciated by the entire community.
"We say to all of those persons who have been entrusted with their care to recognise that they are doing something which is remarkable and to bear in mind that they have the full support and commitment of the Nevis Island Administration.
"The communities in which we live are changing but we never want them to change to the point where they forget to care for the senior citizens of the country," Minister Daniel said.
Minister Daniel, who also holds responsibility for Youth in the NIA, called on "the young people of Nevis" to emulate the lifestyles of senior citizens such as Mrs. Mc. Ghokin.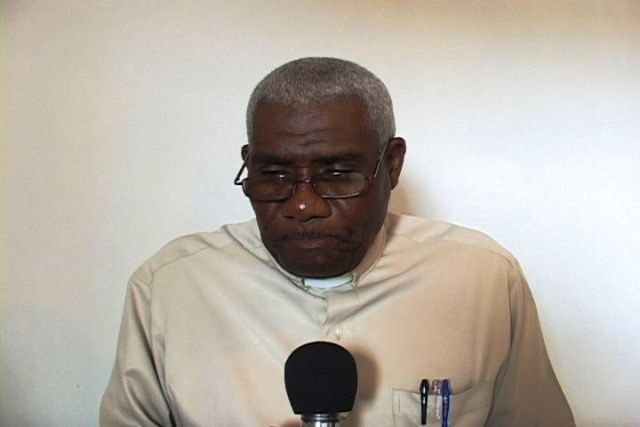 Minister of the St. Georges' and St. John's Anglican Churches Canon Alson Percival.
"We say to our young people that these are the models that we are supposed to pattern our lives after in Nevis. The models are not on television, they are not on Facebook, the models are right here among us: people who have worked long and hard, raised children, shared with the community and remained close to their church and to their God," he explained.
Minister Daniel also used the opportunity to applaud Canon Alson Percival for his efforts "in establishing a forum to take care of the elderly" adding that while "it is a real challenge" it is important to "provide meaningful programmes and services for the elderly."
Canon Percival is the minister of the St. Georges' and St. John's Anglican Churches that oversees the Gingerland-based senior citizens home.
In addition to providing brief remarks, the minister of religion described the birthday celebrant as someone who "is very much alive and well."
Celebrating with the island's senior citizens on their birthdays is one of several programmes facilitated by the Ministry and Department of Social Development.