Nurse Farrell Retires After Three Decades of Nursing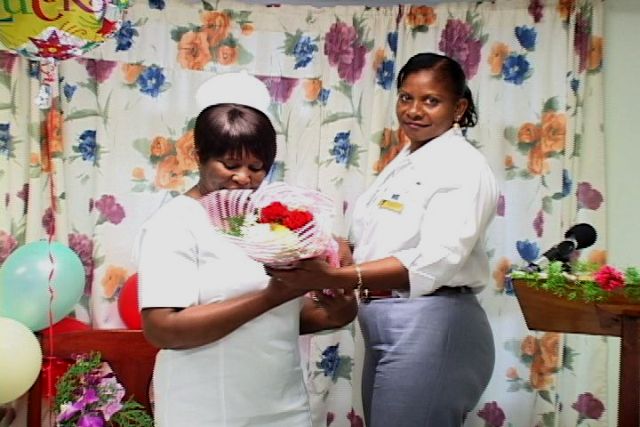 President of the Nevis Nurses Association Ms. Averil Walters presenting bouquet to retiree Nurse Eldina Farrell.
NIA-CHARLESTOWN, NEVIS (December 8TH, 2010) — It was an afternoon of mixed emotions as healthcare officials and employees at the Alexandra Hospital said farewell to the "high-spirited, caring, sometimes strict" nurse of 34 years, Ms. Eldina Farrell.
"Sister Farrell," as she is commonly known for her rank within the nursing profession on Nevis, was officially recognised at a ceremony on Nov 30.
Amidst speeches and presentations, a number of individuals and organisations including President of the Nevis Nurses Association Ms. Averil Walters and custodians at the hospital presented awards and testimonials to Sister Farrell.
Mrs. Nicole Slack-Liburd represented the Nevis Island Administration [NIA] in the absence of the health minister the Honourable Hensley Daniel and his Permanent Secretary Mrs. Jocelyn Liburd. The two, despite their inability to attend the event, conveyed through Acting Permanent Secretary Mrs. Slack-Liburd, words of congratulations and gratitude.
"I want to express our appreciation for Nurse Eldina Farrell who has worked for many years at the Alexandra Hospital and has also provided services in many other areas outside the hospital and has been an asset all throughout the Ministry of Health," Mrs. Slack-Liburd said as she encouraged the retiree to continue her commitment to the island's healthcare.
While Medical Chief of Staff at the Alexandra Hospital Dr. John Essien spoke very highly of Sister Farrell's contribution to the nursing profession, it was his daughter's testimonial about the retiree's impact on her life that led to the sound of "oohs" and "aahhs" that resonated across the room.
Nurse Farrell, despite what appeared to be a difficult task to withhold emotion, thanked her coworkers for creating the forum where her work was recognised.
As she reflected on the circumstances surrounding her decision to join the nursing profession, Sister Farell said that although she had no intention to "stay in nursing," she felt "special being a nurse."
"Nursing," she explained, was "an extension of God's work on earth" and added that as a nurse she was able to witness numerous "miracles."
Nurse Farrell used the opportunity to encourage the nurses who remained in the profession to demonstrate efficient and effective teamwork while they commit themselves to the job.
"The re-emerging diseases and those that are just emerging will call for all your strength, all your patience, all the knowledge that you have and so you have to keep reading and keep abreast and current so that you can serve your country 100 percent and the people who live here a 100 percent," she said.
Her most powerful words however, highlighted the impact of nurses on the community; particularly, the Nevisian community.
"Do nursing. Give it your best. Put 100 percent in it because you are affecting lives; not just your patients' [lives] but the younger nurses and the school children out there who may think of nursing, give them something positive to hang on to," Nurse Farrell said.
Also present at the ceremony were Medical Officer of Health Dr. Judy Nisbett, Matron at the Alexandra Hospital Mrs. Aldris Pemberton-Dias and members of staff at the Alexandra Hospital.