NIA's Ministry of Agriculture Solidifies Support Towards Food Production and Food Security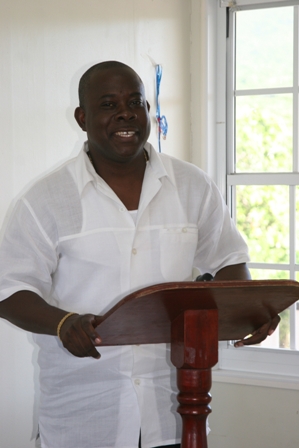 Minister of Agriculture in the NIA the Honourable E. Robelto Hector.
NIA-CHARLESTOWN, NEVIS (December 9TH, 2010) — While many countries around the world are plagued with instances of hunger, Nevis, according to the island's Agriculture minister, "has not had that serious threat."
The Honourable E. Robelto Hector made the statement last week when he addressed a handful of employees within his ministry at a ceremony to honour three of Nevis' most outstanding agriculture workers.
Minister Hector said that while the Joseph Parry-led Nevis Island Administration [NIA] was thrilled that it had a sound agriculture sector, he [Minister Hector] still saw the need to ensure that Nevisians understood the importance of food production and food security.
The ministry's "revival of its cooperative group, the expansion of its production acreage, a move towards the line of cutting technology and plans to refurbish the Charlestown Public Market" coupled with Minister Hector's personal presentation of awards to high school students were areas of development and achievement for the NIA that the Agriculture minister highlighted.
"The cooperative group," he said, "has been the engine upon which the Ministry of Agriculture moves in terms of our growth, attracting younger farmers, improving acreage and moving towards export agro-processing" while his funding of the school-based awards underscores that the NIA is "not just looking at the ensuing farmers but it is also focusing on the replacement stock."
The ministry's developmental projects, according to Minister Hector, solidified its support of Nevis' farmers and other agriculture sector workers towards "not [just] agriculture but food production."
In speaking about the move towards the line of the cutting technology and protected agriculture, Minister Hector said "we would be able, on a smaller acreage, to generate higher yields and pretty soon, the department would be a leader again in this regard."
While the New Year will bring tidings of great joy to others, Minister Hector says it will mean that farmers will be on their way to being in better surroundings as plans were being made to "begin the demolition process" of the Charlestown Public Market.
"The government continues its commitment towards Agriculture and this is a very serious commitment," he underpinned.