Over 150 children enjoying Nevis Department of Youth's Annual Easter Camp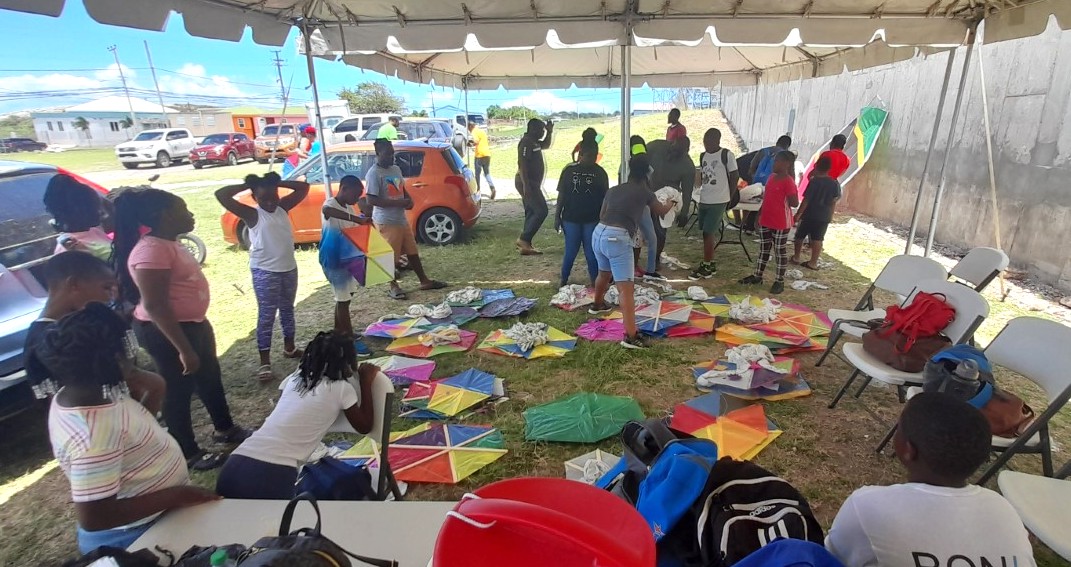 NIA CHARLESTOWN NEVIS (April 14, 2023)- The Nevis Department of Youth's Annual Easter Camp is underway with more than 150 children participating in various fun activities.
The camp, which forms part of the Department's activities for Youth Month, is being held on the periphery of the Nevis Athletics Stadium. The camp started on Tuesday, April 11, 2023 and on Thursday the campers were wrapping up a kite-making initiative and were being instructed on how to fly their kites safely.
Hon. Troy Liburd, Minister of Youth and Education in the Nevis Island Administration (NIA), who sponsored the initiative, was on hand Thursday to assist the children with their kites.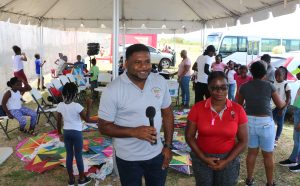 "I am very happy to be here to support the Department of Youth with their Youth Month activities and more specifically with this kite-flying initiative. We had two days of kite-making and now we are having what I would like to call a kite-flying extravaganza because we see all the children here and they are very happy to be flying their kites.
"Kite-flying is one of our big traditions here on Nevis and we want to ensure that the next generation continues with the tradition. I'm very happy to be associated with the Department of Youth and their camp and I want to congratulate Director [Kerdis] Clarke and her staff and all of the volunteers that have come on to assist. We had three who came on to assist with the kite-making but we have a number of other volunteers who are here for the entire camp, and I want to thank all of them for coming forward and assisting us. It's all good when the children have a lot of fun and that is what it is all about," he said.
Ms. Clarke, Director of Youth in the NIA, said the Easter camp is an annual event for the Department and each year they see a large number of children in attendance. This year, the majority of registrants were in the five to seven year-old group with approximately 70 children. The Director said it was rewarding to see the children fascinated with making and flying their own kites.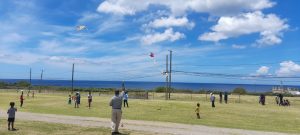 "The Department of Youth celebrates Youth Month annually in April and this year we're celebrating under the theme 'Inspire to Aspire'. A part of Youth Month's series of activities is Easter camp and this year it's dubbed 'Camp Inspire'. We have a number of fun and interesting activities for the children starting with the kite-flying. The children are absolutely excited about the activity and we love to see the smiling faces," she said.
Part of Thursday's activities included music and a bouncing castle, and the children were also treated to pizza.
Ms. Clarke informed that the campers would participate in a fun day on Friday (April 14) which included a walkathon from Bucco Park to the Malcolm Guishard Recreational Park in Pinneys Beach.
During the course of next week the campers will enjoy tie-dying, making soaps and shampoos, a career day, learn plumbing and tiling, and take a number of field trips. The Easter camp will conclude on Friday, April 21.