Over 700 personal laptops distributed to 1st – 3rd Form High School students on Nevis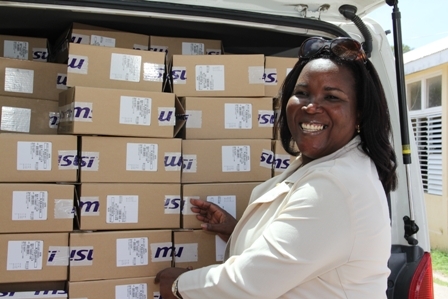 NIA CHARLESTOWN NEVIS (March 26, 2012) — First, 2nd and 3rd Form Students of the three secondary schools on Nevis could not hide their jubilation when they received word they were each about to receive a personal laptop on March 22, 2012. The custom configured computers were a gift from the Federal Government in collaboration with the Nevis Island Administration (NIA) the third phase of the One to One Laptop project which began two years ago.

The laptops were delivered and distributed by a team of personnel from the Federal Department of Information Technology, the Ministry of Finance and the Ministry of Education led by Information Communication Technologies Development Coordinator in the Federal Government Ms. Keisha Archibald. A total of 722computers were distributed with 442 to the Charlestown Secondary School, 265 to the Gingerland Secondary School and 15 to the Lyn Jeffers Secondary School.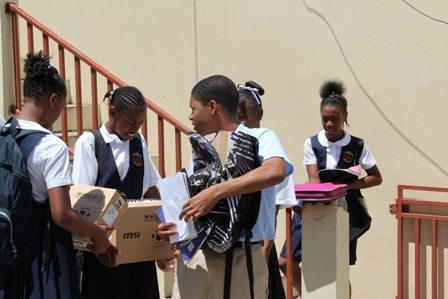 Acting Permanent Secretary in the Ministry of Education and Library Services and Principal Education Officer Mrs. Lornette Queeley-Connor who witnessed the handing over reminded the students to be appreciative.
"Contrary to popular belief the laptop that you will receive…are going to put you on the cutting edge of technology. They are going to make you better students and it does not matter what you hear, these laptops did not fall out of the sky. Somebody worked very, very hard to get them into your hands and so we have to be appreciative.
Whether we already have six of them at home, that is not the issue. You first Formers, second formers and third formers will be able to boast of having your own laptop and so when you get your homework…We have no excuses whatsoever not to do well in school. So therefore I want you to care these instruments, these tools, use them for the purpose for which they are intended," she said.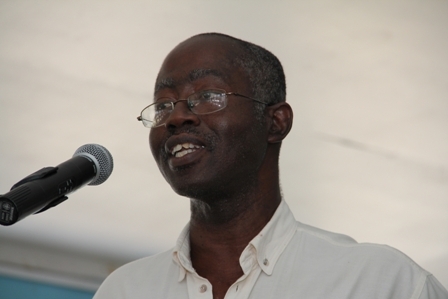 Coordinator of Science and Technology in the Department of Education on Nevis, Mr. Laurence Richards who was also present told the students in brief remarks reminded the students that the computers would provide an avenue for lifelong learning.
"The computers and the internet service that you will also be using are tools that you have to use for your benefit. As such I want to suggest to you that the role of the computers you are receiving use it as a window to the world, secondly, as an avenue for lifelong learning and thirdly, as a tool for education and commerce.
"As I share in your joy because I am happy for you, I also want to encourage you to use the tool wisely, use it for the intended purpose and I trust that in years to come we will be getting 100 percent pass rate in Information Technology because you will be using the tools that you receive and you would have been using them wisely," he said.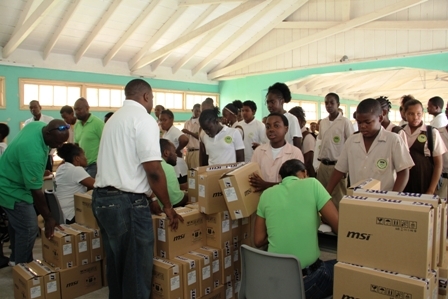 Ms. Archibald reiterated the advice given by Mrs Connor and Mr. Richards and told them the computers would place them at the cutting edge of technology.
"This is the technology age so we are providing you with a tool in your studies. I know persons are going to want to use it to go on the internet and the Facebook and the music and everything but there is also an educational part of it. You can use it in all your subjects not just Information Technology.
"We have put on an educational operating system for you to assist with that so persons are not going to see Microsoft with Windows as you probably would have expected but it has an operating system that has a number of educational packages on there that you can use to your advantage," she said.
Ms. Archibald also urged the students to appreciate the laptops as she notified them of a new addition to the package.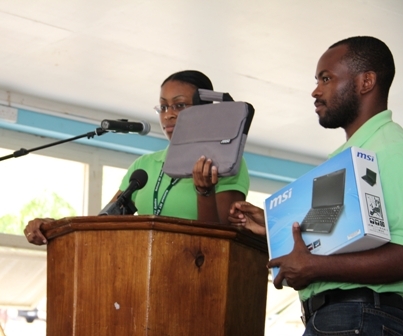 "I hope you appreciate these laptops. I want you to cherish and take care of them. We did note that the laptops before were handed out and they were not handed out with any bags. So this time around all students have a bag to accompany their laptops.
"I hope that means that you will take care of them and we will have less dropping of the laptops and breaking of the screen," she said, before a symbolic handing over to students Ms. Akeem Taylor and Mr. Kajel Smithen on behalf of Federal Minister of Technology Mr. Glen Phillip, Deputy Premier of Nevis Hon. Hensley Daniel, Attorney General Hon. Patrice Nisbett and the Departments of Education in St. Kitts and Nevis.