Parents called on to maximise training in parental education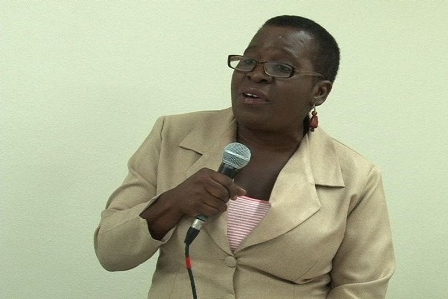 NIA CHARLESTOWN NEVIS (OCTOBER 19, 2012) —
National Director of Early Childhood Development Mrs. Jacqueline Morris, called on parents of Jessups Village in Nevis and environs at the launch of a Better Parenting Programme hosted by the Early Childhood Sector of the Department and Ministry of Education, to maximise the use of the parental education they would receive over the 13 sessions.
She was at the time delivering remarks at a ceremony at the Jessups Community Centre to launch the programme for parents of Jessups and surrounding villages on October 16, 2012 and will conclude on November 27.
"I quote 'We may not be able to prepare the future for our children but we can at least prepare our children for the future' Franklyn D Roosevelt.
So I urge you therefore, to make maximum use of your training so that you can begin to give your child or children a better or the best start in life and hereby prepare them to succeed in years to come," she said.
In addition, Mrs. Morris urged parents to attend the training sessions regularly, be punctual, take notes, participate in planned activities and to put into practice the ideas they would have gained during the sessions.
In so doing, she said the Education authorities in St. Kitts and Nevis would achieve its objectives to help the participants become better parents.
"The more you as parents know about children…when we know how they develop, their developing needs, their characteristics and so on, the better you will be able to perform your duty as parents," she said.
According to Mrs. Morris, the need to educate parents in better parenting was deemed important in recent years, due to the high percentage of single families and also teenage parents in the Federation.
She noted that a proposal which included a request for financial assistance that would facilitate better parenting education programmes was made to the United Nations Children's Fund (UNICEF) under the stewardship of then National Early Childhood Coordinator Mrs. Vanta Walters.
After the request had found favour with the international agency, since then the training had been implemented annually for the most part with financial support from UNICEF.
The National Director of Early Childhood Development also spoke to the sessions held in St. Kitts and Nevis and explained that that had been organised primarily for parents of children enrolled in Early Childhood Centres and Kindergarten.
"They have been conducted in 12 districts in St. Kitts and two in Nevis so far as the Education Officer indicated Charlestown and neighbouring communities in 2009 and served Gingerland and neighbouring communities in 2010/2011.
"So this training is now the 15th in the series and the third to be held on Nevis and this time, for you the parents of this and the neighbouring communities," she said.
While she urged those present to encourage other parents to attend the training, Mrs. Morris stated that it was important for parents to be aware of the ingredients of good parenting and the effect that poor parenting could have on their child or children's total development.
"The task of parenting is actually a very serious one, more serious than we sometimes imagine. It is a task that has become even more complex because of the socioeconomic pressures of modern times. Parents, our children are canvases and we hold the paint brush.
"In fact the first five years of a child is very crucial. It is during those early years that personalities are formed and the social skills and intellectual skills begin to develop. The experiences during these early years determine how well a child performs in school and what the child will become. In fact we are what we are because of our early experiences," she said.
Mr. Morris admonished parents that if they were good and effective parents, children would grow to be strong, healthy and responsible citizens and would become good parents themselves and the cycle would continue.