Camps Villager on Nevis celebrates 101st Birthday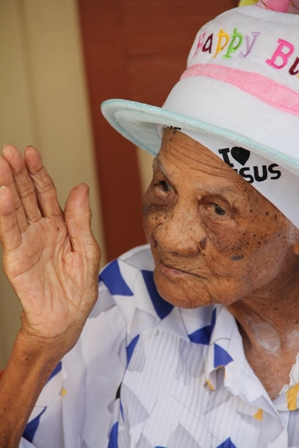 NIA CHARLESTOWN NEVIS (OCTOBER 22, 2012) —
Mrs. Selina Ward of Camps Village, continued to be in the ranks of centenarians on Nevis when she celebrated her 101st birthday on October 20th, 2012. She is one of four living centenarians on the island, with 104 year old Mr. Herman Ward of Morning Star.
Mrs. Ward who was celebrated by her family and friends was also acknowledged for her milestone by the Social Services Department and the City Drug Store through Director of Social Services Ms. Sandra Maynard. A visibly grateful birthday girl registered her thanks to all including her Maker and reiterated his goodness to her.
"God has been so good, he has spared my life and bring me over for another minute, another moment, another day… God bless and I praise him, I praise him, I thank him for all… No goodness I have done on my own because I am not good … You know we are all not good, nothing good in us but Jesus will make us good. I want to be good that when I leave this weary and troublesome world, I will go to rest with Jesus.
"Jesus is my Saviour I cannot do without him. I cannot do one step without Jesus and I am giving him praise and thanks. I bless all those that are around me… God bless you all. Please continue to pray for me. I need prayer, I need prayer, I need prayer. Don't be weary of prayer, I need prayer. Please continue to pray for me and to sing for me. I need singing, I need singing," she said as she joined in the range of gospel songs being sang in her honour.
Meantime, Ms. Maynard in brief remarks wished Mrs. Ward a Happy Birthday and presented her with a Certificate of Recognition, from the Social Services Department, and a special fruit basket and certificate on behalf of the City Drug Store.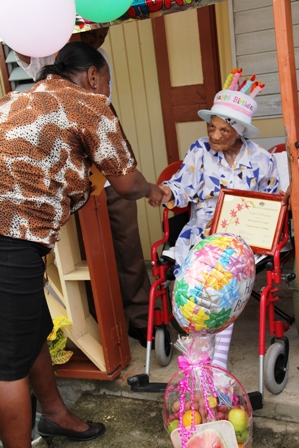 She also extended congratulations on behalf of Premier of Nevis and Minister of Social Development Hon. Joseph Parry, Permanent Secretary in the Ministry Mr. Alsted Pemberton, Coordinator of the Senior Citizens Division Mrs. Garcia Hendrickson and field workers from the Department of Social Services who had been paying her home visits.
"We have a plaque that we want to present to you it says 'Social Services Department Certificate of Recognition is awarded to Mrs. Celina Ward in recognition of your 101stbirthday' and I congratulate you. I know that you have one like this already and I am hoping that we will be here to give you many, many more. So you got one like this last year, perhaps the year before and I am hoping that we will be able to come back and give you many, many more," she said.
Ms. Maynard used the opportunity to speak further of the City Drugstore's partnership with the Senior Citizens Division.
"City Drug Store partners with our Department to celebrate the birthdays of our seniors especially those who are over a century and so this [fruit basket] is from the City Drug Store and we also want you to enjoy this along with your family on your very special day.
"We also have a special certificate again from the City Drug Store who is proud and also want to celebrate and honour all of the seniors that made 80, 90 and 100 so this is another special gift for you Mrs. Ward and again congratulations on your 101st birthday," she said.According to Mrs. Ward's son Mr. Melford Ward who chaired the celebratory session, his mother was the fourth of five children born to Mr. Charles Hilton Hanley of Hanleys Road and Mrs. Beatrice Elizabeth Sheeply Hanley born at Rawlins Village, she passed away in her 90s.
He said all the girl children (four girls and one boy) lived well into the 90s with the exception with the brother who lived to almost 90 years. One sister lived to be 101years.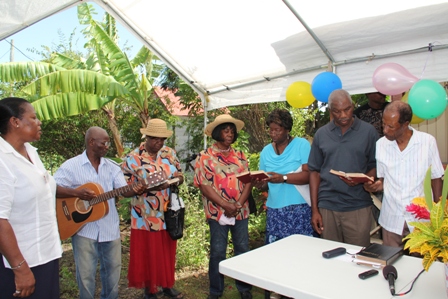 Mr. Ward described his mother as a very hardworking and caring person who loves the Lord but lost her husband Mr. Luther Abraham Ward deceased some years ago.
"Our mother loved the Lord…Mama who is now 101 believe you me her brain is sharper than mine. She is sharp and she seems to remember quite a few things but I said she love the Lord. Apart from being a church-goer, all her life she remembers every day the Women's League.
"The Women's League is a very vital part of her life and whenever they come to visit her she is always very happy to have them. Other groups come as well to visit her and the neighbours come around and they pay visit to her…The community on a whole have been very, very good and kind to her and I would like to say thank you very much," he said.