Parry commends Development Bank for promoting Agriculture sector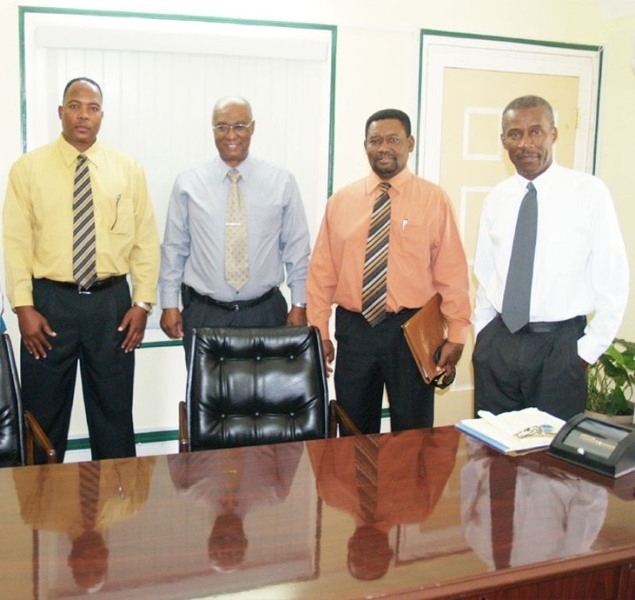 Charlestown, Nevis (Monday, March 12, 2012)–
Premier of Nevis, the Hon Joseph Parry has congratulated the Development Bank of St. Kitts and Nevis and the Government of St. Kitts and Nevis for stimulating the Agriculture sector in the Federation by offering interest free loans to bona fide farmers and fishers.
Premier Parry, who was speaking on Tuesday, March 6 on his weekly In Touch With the Premier live radio programme hosted by Press Secretary, Deli Caines on Choice 105.3 FM and other radio stations in the Federation, reiterated that the Agriculture sector was an important one for the country.
"I want to congratulate the Development Bank, and the Government for singling out one of the primary sectors that is so important to us, Agriculture, and seeking to promote activities in agriculture by giving interest free loans," said the Premier.
The Development Bank of St. Kitts and Nevis, which is wholly owned by the Government of St. Kitts and Nevis, has partnered with the Sugar Industry Diversification Fund (SIDF) to offer interest free loans of up to EC$25,000 to bona fide farmers and fishers. However any amount above that and up to EC$50,000 is given at six percent interest per year, but calculated on average at three percent.
"If you get EC$25,000 as a fisherman you can do a lot with it, and if you get EC$25,000 as a farmer you can do a lot with it; it is not a small loan, and it is interest free," advised the Premier. He however cautioned: "It is not a gift though, and it is not a grant and sometimes people seem to mix up interest free with a grant or a gift — you have to pay it back."
Premier Parry, who is also the Minister of Finance in the Nevis Island Administration, educated members of the public that the money is in a form of a revolving fund. "In other words, as you pay back that money it will be loaned out again, and if you want to borrow more than $25,000 you have to pay six percent. If you are prudent, you work with $25,000 and you make sure you make do for yourself and your future."
He observed that a caller to a weekly talk show on another radio station had in the previous week stated that the Development Bank was offering interest free loans and was rebuffed by the host. The caller, who is a well known fisherman, must have had first hand information about the loans.
"He (the caller) stated that they had interest free loans at the Development Bank and he was taken to task on that matter," commented the Premier. "That is not the point I am mentioning here this morning. I am simply mentioning for information and if people had wrong information for them to get the right information."
Premier Parry explained that it would not have been difficult for one to go to the Development Bank branch in Nevis, or even to make a phone inquiry. He advised persons to be wary of information that is propagated on some of the talk shows, "because you do not always get accurate information and sometimes you do not even get the truth."
Conveying the right information about the loans from the Development Bank for farmers and fishers, the Premier said that information that had come from the manager of the branch office (Mrs. Alexa Pemberton) was that the bank was indeed offering interest free loans of up to a maximum of EC$25,000 for fishers and farmers.
According to the Premier, those are the kinds of loans that will help to foster and encourage development but added that there is an element of responsibility. Prospective borrowers were reminded that the loans were not gifts because sometimes people treat gifts as nothing. The borrowers must be prepared to seriously work, and to seriously pay back.
"If people are ridiculing the idea of an interest free loan, what about a grant?" posed the Premier. "What is a grant? A grant is a gift. When you are given the money and you do not have to pay it back. If you can get a grant, why can't you get an interest free loan? All kind of things happen in the fiscal world and people need to have flexible minds and flexible approaches."