People of Nevis continue to benefit from partnership with Development Projects Foundation Inc., says Health Minister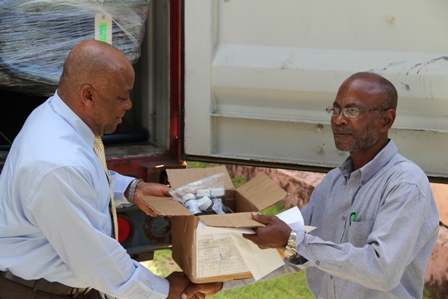 NIA-CHARLESTOWN NEVIS (November 02, 2011) —
Minister of Health in the Nevis Island Administration (NIA) Hon. Hensley Daniel, described the relationship between the Development Projects Foundation Incorporated and Nevis as a partnership that was working and continued to yield tremendous benefit for the people of Nevis.
Mr. Daniel's comment came on Tuesday November 01, 2011, when he was presented with a 40 foot container of medical supplies, equipment and furniture valued at US$106, 117.30 from the United States of America based non profit organisation Global Links for the Alexandra Hospital.
"This is a partnership that is working and this partnership is yielding tremendous benefits for the people of Nevis. It is our role to continue to strengthen this partnership, to ensure that we could provide the kind of quality service that is required when people are ill," he said.
The Health Minister thanked the Foundation on behalf of his Ministry for looking after the interest of Nevis. He also urged those who would use the medical supplies to bear in mind that the Organisations involved could have chanelled the donations eleswhere to more needy areas in the region like Haiti.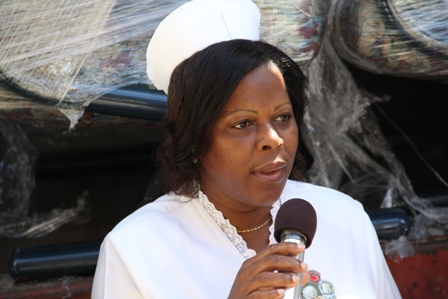 "They could have looked at several other countries across the globe and given their contribution and so, I want us first of all to make good use of the supplies and secondly to ensure that the equipment here, especially the furniture, is properly used and maintained," he said.
Mr. Daniel also thanked the Foundation's Director for engaging the Organisation for the donation and said it would help the Ministry of Health financially. He also pointed to the selfless effort of those involved in getting the donation together and delivered to the Hospital.
"If we understand we are in an environment where we have to meet certain financial challenges, then $200,000 worth of materials will do a lot for our hospital. I want to remind all of us that if we get $200,000 of supplies that is $200,000 less we have to spend from our Ministry…
"I would hope also that as a group of people working at the institution, we recognise the efforts of all of these people to source the items ship them and have them properly delivered to us here on Nevis. It requires people who are working voluntarily to provide resources for us. So when we come to work we should at least use them wisely and to send the message to them that it is worth the effort," he said.
In conclusion, Mr. Daniel thanked all who were involved with assisting with the donation and asked Mrs. Parry to convey the Nevis Island Administration's very sincere appreciation for their contribution.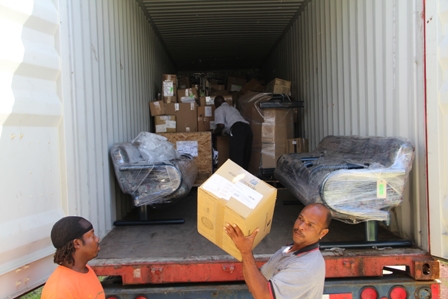 Meantime, Matron at the Hospital Nurse Aldris Dias registered gratefulness for the gift and pointed to some of the items that had been received all of which were needed.
"We are extremly greatful for the supplies that we have gotten here this morning. Among the supplies we have things like strips that we use for wound dressings, sterile drips that we could use in the operating theatre. We also have sterile and disposable gloves that we use so very often and we are so very grateful for them.
"We also have canisters that we use for our suction machines we are greatful for them as well and many other supplies that we can use here also gauze, cotton wool preparation packages that we use so very often. So we are indeed grateful," she said.
Regarding the furnishings received, Matron Dias explained that they would be used in the Hospital's waiting room and for patients on the Units.
"We are very, very greatful for the generous contribution from Global Links and we are indeed looking forward to other partnerships and relationships," she said.