Phase One of Mundo Track Project nears completion; progress satisfactory, says Project Manager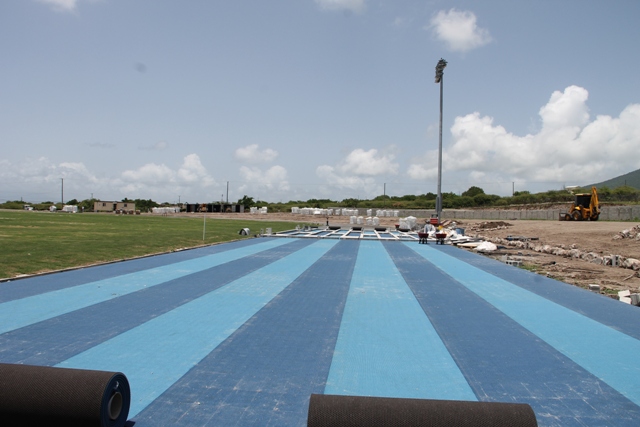 NIA CHARLESTOWN NEVIS (AUGUST 23, 2017) — Mr. Timothy Caines, Project Manager for the Mondo Track Project at Long Point expressed satisfaction with the progress, now in its final stages of Phase One.
During a visit to the project site on August 22, 2017, Mr. Caines told the Department of Information that though the timing was hampered by some unforeseen challenges, no short cuts were taken.
"I am pleased with the way in which things have progressed. Of course it could have been better in terms of the time but most of it was circumstances beyond the control of myself or the contractors involved.
"I think the more important thing is to get it done to the specifications, so we can get the certification. So no short cuts… The track is guaranteed for 10 years… We had to wait…and everything is on point. Once the surface is laid, it's moving forward with the certification for International Association of Athletics Federations (IAAF)," he said.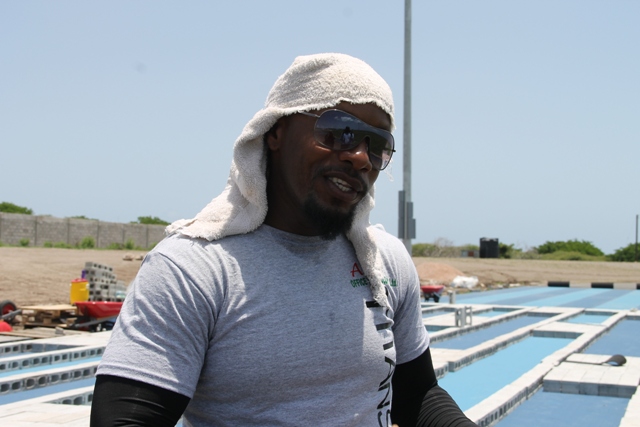 The Project Manager noted that apart from material availability, the final layer of asphalt was ready in June but, in keeping with the contract, Mundo engineers were expected to be present but were only available one month later.
Installation work by Mundo engineers, assisted by labourers from the local work force, commenced on the final surface of the all-weather 400 meter track and field facility on August 21, 2017.
Mr. Caines believes that that segment of the project will take three or four weeks, dependent on the weather. The surface must be dry to facilitate adhesive bonding. Apart from the main track area, the warm up track, javelin and pole vault areas will also be surfaced during the final phase.
Over the past weeks, the lighting system with a 10-year guarantee, was also installed and commissioned by Mosco Sports Lighting in the United States of America.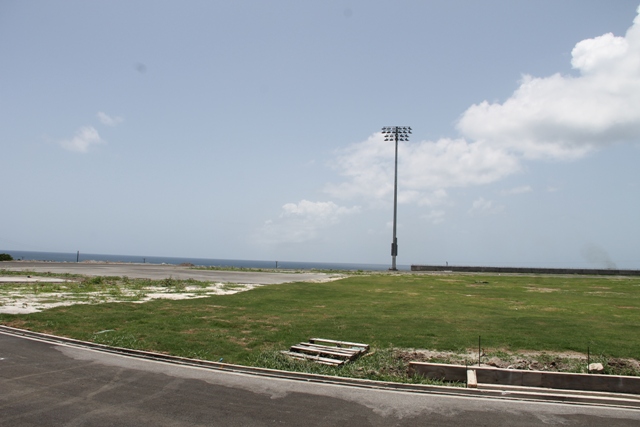 The system is a four-pole design with three different lighting systems.
"You can light just the football field if you want to or just the track or just the warm up track or you can do all three simultaneously," Mr. Caines explained.
Improvements have also been made to the grass surface area in the middle area of the track which will be used as a football field.
A stone wall is being constructed on the eastern section of the track area which Mr. Caines said would add unique Nevisian character to the facility.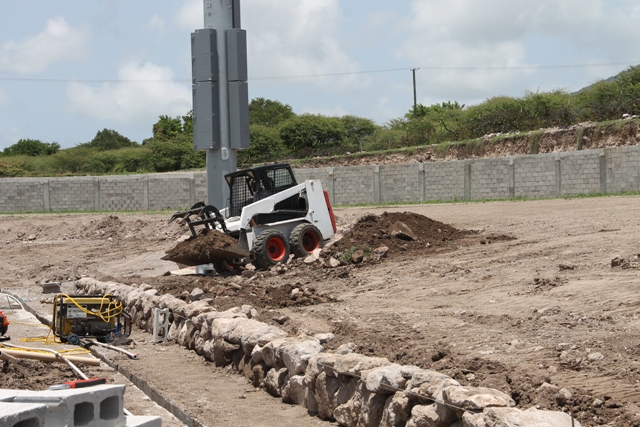 Work on Phase 1 of the Mundo track, which includes lighting, track and grass, commenced in December 2016, with funding from the Sugar Industry Diversification Fund (SIDF). Phase 2, which will commence sometime later, will include construction of the stadium and parking facilities.