Police Officers Enthused by Civilian's Recommendations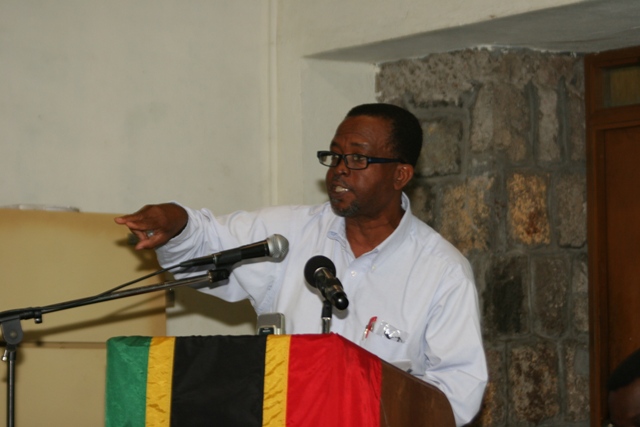 Retired Civil Servant Mr. Charles Bussue speaking to police officers on Nevis.
NIA-CHARLESTOWN, NEVIS (January 6TH, 2010) — "Burdens are lighter when everyone lifts" was the theme in focus at Monday's [Jan. 4] annual lecture and New Year's blessing for the members of the Nevis division of the Royal St. Christopher and Nevis Police Force.
The ceremony, held at the Divisional Headquarters in Charlestown attracted the participation of a large number of police officers including Divisional Commander Inspector Hilroy Brandy; former police officer, now pastor Mr. Simeon Prentice; Woman's Constable Ms. Ornette Hendrickson and Head of the Task Force Mr. Winston Wilkinson.
Amidst the lusty singing was a well-received feature address by retired civil servant Mr. Charles Bussue who presented nine suggestions to the officers that he believed "would improve police-community partnerships on Nevis."
"The police needs the public and the public needs the police.
"Police officers should get to know every member within the community they serve. Find time to chit chat with them. You will be certain to find out by this process who is who and who is likely to be doing what," Mr. Bussue explained.
He called on police officers to "let their presence be felt" by walking through villages, adding that "the police must be seen as friends of the people and an integral part of the community."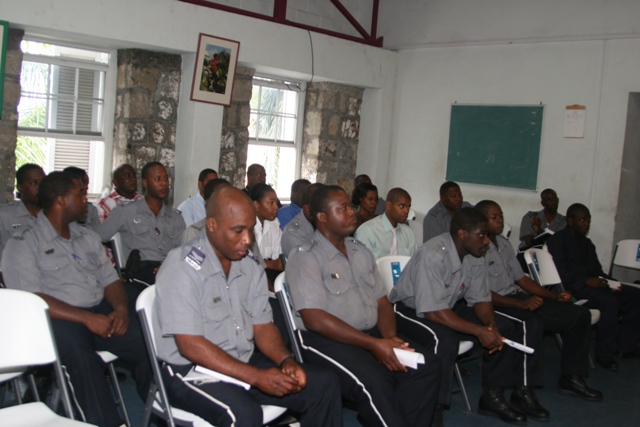 Police officers enthused by the words of their featured speaker.
"You drive through glassed up; you don't stop to talk to any of us to find out if everything's alright. Let me feel you. Let the public feel your presence. Come in cars yes, come in the vans yes but step outside and talk to us," he pleaded.
Mr. Bussue reminded the officers that their quest to improve police-community partnerships should not be overpowered by their duty "to be quick and impartial to enforce the law when necessary."
Among other suggestions made by the retired civil servant was the reintroduction of the Drug Abuse Resistance Education [DARE] programme and the hosting of public debates and panel discussions.
The DARE programme, according to Mr. Bussue, "molds young minds at an impressionable and fertile age" while debates and panel discussions "will let persons know that they are part of the crime prevention process."
The issue of crime preventing rather than crime solving seemed to capture the officers' attention as Mr. Bussue explained the importance of "speaking to potential wrongdoers rather than waiting for something to happen to make an arrest."
In response to Officer Alanzo Carty's exclamation, "sometimes that's what you have to do," Mr. Bussue said, "Sometimes yes Carty, you have to do that but what if you called me and said I see what you're about to do, stop it or else you can be arrested?"
"I want you sometimes to operate as preventers of crime rather than just waiting to make an arrest. If you came out and you spoke to would-be criminals: talk to them, work on them and see if you can get them to make a U-turn, I think this approach will engender confidence in yourselves and the public," he explained.
In addition to presenting the opening and closing prayer at the ceremony, Pastor Prentice offered a brief message to the officers while Woman's Constable Hendrickson read Mr. Bussue's biography and Inspector Wilkinson delivered the vote of thanks.
The ceremony, according to Inspector Brandy was an annual initiative taken by his division that was in existence for more than one decade.