Police Officers on beat should know their community, says Commissioner Walwyn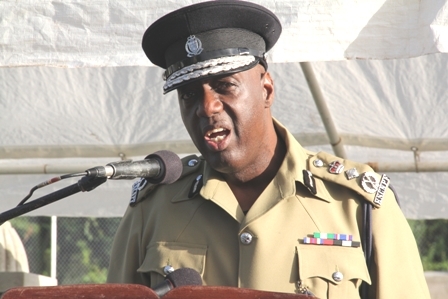 NIA CHARLESTOWN NEVIS (March 05, 2012) — Police Officers on the beat were duty bound to familiarise themselves with the communities in which they served and should maintain a close relationship there. That recommendation came from the Federation's Police Commissioner Celvin G. Walwyn, when he addressed Officers at the recent 9th annual Constable Awards Ceremony on Nevis at the Occasions Entertainment Arcade.
He said community policing was not a department within the Police Force but rather should be a philosophy of the Agency since intelligence did not come from a group within the Police Force.
"It is your duty to make sure that the businesses and the citizens know you by name and know who they can call when something goes down. Every business in your beat should have your phone number. I know that sometimes we don't have enough to top up but that's ok but every business should have your number when you are on duty and you should know everybody in your beat.
"Community policing is not a department within the police Force it should be the philosophy of the Agency and remember that intelligence…comes from the people in the streets. If people don't respect the Police, you won't get any intelligence. You have to present yourself in a way that the people would want to respect you," he said.
Meantime, the Top Police Officer said he was proud of the nine Constables who were nominated for the title of Constable of the Year and told them he was proud of them for the job they had done so far why they had been selected.
"Personally I know what it took to get there, I will support you I will continue to support you, I will support the entire Police Force but I will only support you if you are doing what is right. If you are not, don't look for me to back you up because I won't," he stated.
However, to members of the public Commissioner Walwyn said the members of the Police force were there to serve them and if anyone had issue with any Officer they should contact their supervisor. In the event that they do not get any satisfaction that should call him directly at 662-2145.