Police Commissioner Walwyn stresses value of courtesy, respect, integrity and professionalism in Police Force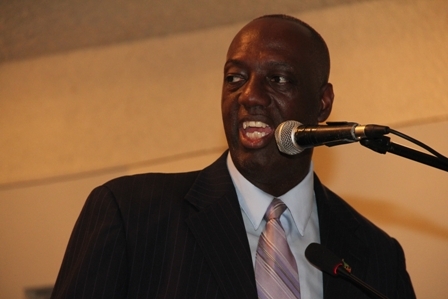 NIA CHARLESTOWN NEVIS (March 05, 2012) — Courtesy, respect, integrity and professionalism were four characteristics Head of the Royal St. Christopher and Nevis Police Force Commissioner Celvin G. Walwyn impressed on Police Officers that were important to success in their line of duty.
He was at the time delivering remarks at the 9th Police Constable Awards on Nevis on February 25th 2012. He told the Officers that he was trying hard to change the image of the Police Force but it was dependent on the individuals enlist in the Agency.
"As a Police Officer you have a duty to be courteous to those you come in contact with. It is your duty to represent yourself well and the Agency for which you work. It is your duty to be courteous to the citizens and foreigners of this country," he said.
Regarding respect Mr. Walwyn stated that the officers should first respect themselves then others.
"If you have no respect for yourself then you are going to have a problem on the street. You can't speak to people any which way that you choose and expect them to respect you in return. It is a two way street, you have to respect the people with whom you come in contact with, whether it is a little child or an old person you must be respectful with those whom you serve," he said.
Integrity was the third trait the Commissioner pointed to and explained it was of paramount importance if they wanted to continue their employ in the Royal St. Christopher Police Force.
He also urged members of the public to report any crooked police officer stationed in Nevis or St. Kitts to inform him directly.
"Integrity goes a long way, if you don't have integrity you will not last long as a police officer especially under my command. I can't say it any other way. If you are a dirty cop out here in these streets and I find out, I will do my best to make sure you get arrested. You cannot be a dirty cop and serve in this Agency…
"It takes one cop to mess it up for everybody. Every cop out here is not dirty and I hear the stories…Do not let one apple spoil the whole bunch. I am telling the community if you have information of any dirty cops here in Nevis because I have done it in St. Kitts so I am just telling you, you need to call me and everybody knows my number by now 662-2145, I am dead serious about this," he said.
Regarding professionalism, the Commissioner was adamant that the Royal St. Christopher and Nevis Police Force would become a professional Agency.
"You must be a professional in this field. Any police officer from St. Kitts and Nevis should be able to go to any other island and get a job as a policeman because of our standards.
"We have done many things to change the image of the Agency since we took over in September and we have done many things to increase the training of the officers since we took over in September," he said.
According to Mr. Walwyn, the month of March had been designated as a month of training for police officers on both Nevis and St. Kitts. The officers would receive specialty training from the Virgin Islands and also from Orange County Office in Orlando.
Notwithstanding, the Commissioner told the Officers they also had a responsibility to look professional and offered them some tips.
"We want to have a more professional Agency but again it is the individual officer that's going to make the difference. Put on clean uniforms everyday when you are going to work. Make sure your shoes are clean, wear your hat. If your uniforms are not up to date to be on that street, tell your supervisor and get you a new uniform. We make our own uniforms we can make you one so that you can be looking professional when you are on the street," he said.