Police ensured Nevis remained safe for all in 2011, says ACP Liburd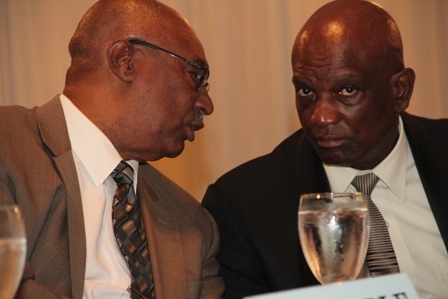 NIA CHARLESTOWN NEVIS (March 02, 2012) —
Although the Nevis Division of the Royal St. Christopher and Nevis Police Force did not meet its target to decrease crime by 50 percent in 2011, it managed to ensure the island remained safe for all.
That was the view of Assistant Commissioner of Police responsible for the Nevis Division Robert Liburd, when he delivered remarks at the 9th annual Police Constables Award Ceremony and Dinner. The function was held at the Occasions Entertainment Arcade at Pinneys on February 25th 2012.
"During the past year the Division worked tirelessly to ensure these communities remained a safe place for all residents and visitors alike. The goal then was to reduce crime by 50 percent, hence out of the 385 crimes committed in 2011, a total of 184 crimes were solved which gives us 47.97 percent," he said.
However, Mr. Liburd noted that the Division's new Strategic Plan for 2012-2014 under the theme "Strengthening Partnerships to Build Safer Communities" called for much teamwork in an effort to reduce crime.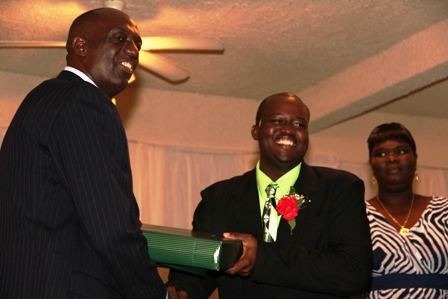 "To you awardees and gentlemen and ranks of the Royal St. Christopher and Nevis Police Force within this Division, in particular, please be advised that our new Strategic plan for 2012-2014 … calls for us to work hard and to work together to reduce crimes within this Division.
"Our goal is to reduce crime by 30 percent over the next three years. This plan calls for hard work and dedication, team spirit is critical. It is important that we work in accord on the five Divisional priorities that we have set out for ourselves in order to meet our target," he said.
Notwithstanding, the Assistant Commissioner of Police lauded the nine nominees for their dedication to duty and said they were carefully selected from the four police districts and the specialist departments within the Division.
The nominees, No. 426 Constable Gregory Hanley from the Criminal Department, No. 592 WPC Corette Harris from the Immigration Department, No. 626 Constable Leon Michael from the Traffic Department, No. 688 Constable Kendy Paul from the Cotton Ground Police Station, No. 689 Constable Josiah Bobb from the Gingerland Police Station, No. 705 WPC Julia Smithen from the Charlestown Police Station, No. 716 Constable Vernon George from the Task Force, No. 748 Constable Kerran Nicholas from the Newcastle Police Station and No. 768 Constable Wayne Hanley from the Charlestown Police Station were all selected by their immediate supervisor. The list of nominees was then presented to a special committee of senior officers and after considerable deliberation they arrived at the top three positions for Constable of the Year.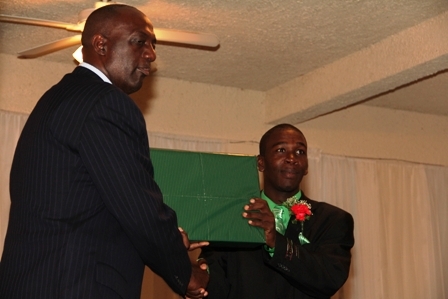 Mr. Liburd explained that the nominees were officers who had assisted in patrolling the streets of Charlestown and all of Nevis and who had groped in the dark when the street lights conveniently refused to give their radiance.
"They grapple with the unforgiving weather patterns and responded to echoes of gunshots and often times inhaled the inert and pungent smell of gunpowder. These officers assisted in the arrest of many suspects, assisted in the recovery of gruesome wounded and dead bodies, provided comfort for wailing families and gave support to persons who were confronted with the senseless demise of loved ones.
"They conduct searches in the most infested and dilapidated buildings more often than not in hostile environments looking for criminal suspects with stolen and sometimes un-custom goods," he said and added that they were proof there were still a few good men and women.
He praised the Officers for their hard work and reminded them that they were all winners, whose efforts did not go unnoticed by their supervisors.
"You have turned your disappointments into success and through our effort during the last year you were able to boast of the peace and security within our communities.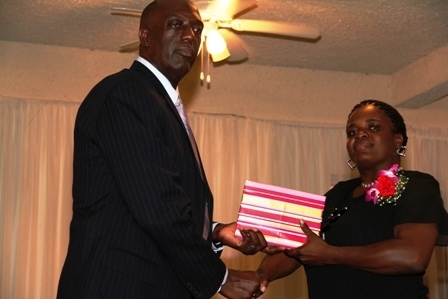 "You have created a viable climate in which economic and social development has taken place and have restored investor confidence in this country. Further we are excited in celebrating with you and encourage you to continue to do your best and not relent on being a professional in the service delivery. Please be reminded that we are all public servants and the public is looking for high standards," he said.
The Assistant Commissioner said he was proud of the men and women of the Department who had chosen to step up to the challenges, regardless of the difficult situations they found themselves in on a daily basis.
"They have gone beyond and above the call of duty to ensure our community remains safe, a better place for us to live, to work and to play. They continue to persevere and to choose to do whatever it takes to succeed in our mission to serve our communities," he said.