Premier Brantley thanks Guyanese community for contribution to development of Nevis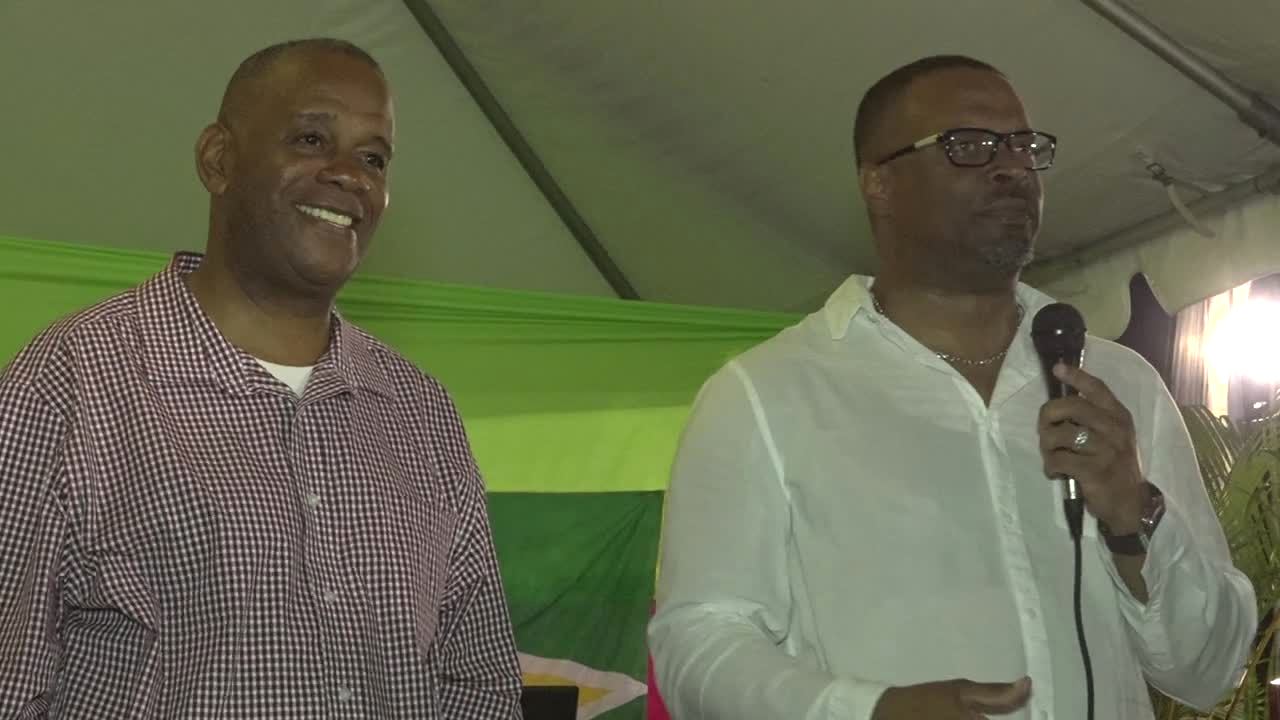 NIA CHARLESTOWN NEVIS (March 06, 2018) — Premier of Nevis Hon. Mark Brantley, told the Guyanese community on Nevis that the Nevis Island Administration values their contribution to the development of the island they now call home.
Mr. Brantley was attending Mashramani celebrations observed by the Guyanese community on Nevis on March 03, 2018, at the Elquemedo T. Willett (ETW) Park. He also pledged continued support for the Guyanese as they observe the festival which commemorates the birth of the Republic of Guyana on February 23, 1970.
"Thank all of you for being here. Thank all of you for being part of the Nevisian community. Thank all of you for continuing to contribute to the development of this, your home…We will continue to support and we value so very much the contribution that you make…
"Thank you very much for your contribution. May you continue to be a part of this community and continue to contribute because wherever you are we know that Nevis is growing, development is happening and Nevis is getting better…May we continue to live together as one, live together in peace and continue to develop our beautiful island of Nevis," he said.
Mr. Brantley also said he looks at them as Nevisians because some have been living on the island for almost 30 years and the Administration wants to ensure they are comfortable.
"I see you all as being part of us and we are part of you so we welcome you.
"We want to make sure that you are comfortable. If you have any difficulties we want to ensure that you are able to come to the government, work out those difficulties because we recognise we value and we appreciate the contribution you continue to make to the development of this little island," he said.
Meantime, Hon. Eric Evelyn, Minister of Culture, Community Development and Sports, welcomed the event. He said he is pleased that Nevisians are given the opportunity to experience another culture.
He used the opportunity to encourage the Guyanese community on Nevis to participate in Culturama, the island's foremost cultural festival, which will be held this year from July 26 to August 07.
"I am throwing out the challenge to the Guyanese community to have, not just one, not just two but several troupes on the main road come Parade of Troupes.
"The challenge is I want to see no less than five troupes from the Guyanese community. It could be more but no less than five troupes come Culturama 2018," he said.
Mr. Evelyn said he was also heartened by the support generated by a cricket game at the Mashramani celebrations and expressed hope they would also support the planned 20/20 tournament hosted by the Department of Youth and Sports.
"During this month we have the start of a 20/20 tournament and your very own Big Rock team will be a part of that tournament.
"I am encouraging you to come out and support good 20/20 cricket right here at the ETW Park. Come and support your team and come and support all of the four franchises. I think it starts on the 17th of March and so we will be looking forward to see the ETW Park filled and bursting at its seams," he said.