Premier brings in birthday with a bang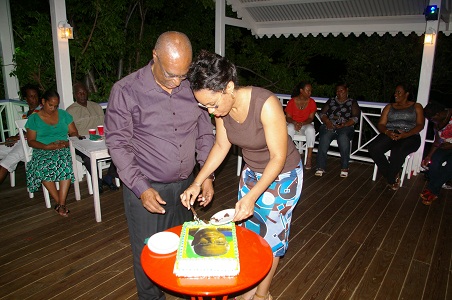 CHARLESTOWN, NEVIS (Tuesday,July 10, 2012)–
Premier of Nevis, the Hon. Joseph Parry was the toast of the town Friday night, July 6. The Nevisian leader was flooded with choruses of "Happy Birthday" and "Best Wishes" at an early celebration of his birthday in the presence of scores of family members, co-workers, friends, constituents and supporters at the Reviere House on Government Road, Charlestown.
Popular entertainer Calvar Lee "Gharlic" Swanston sang a stirring rendition of the Birthday Song, while veteran calypsonian Crefton "King Meeko" Warner sang "Parry Nice", a revised version of the masterpiece "Nevis Nice", widely accepted as the unofficial anthem of Nevis – both to the joy of the crowd.
A beaming Premier Parry, then cut the birthday cake and informed his guests that he was very pleased that the party had been organized in his honour.
He thanked them for coming out to spend the evening with him, and warmly embraced the Women's Arm of The Nevis Reformation Party (NRP) for making the arrangements, and Gharlic and Meeko for their renditions.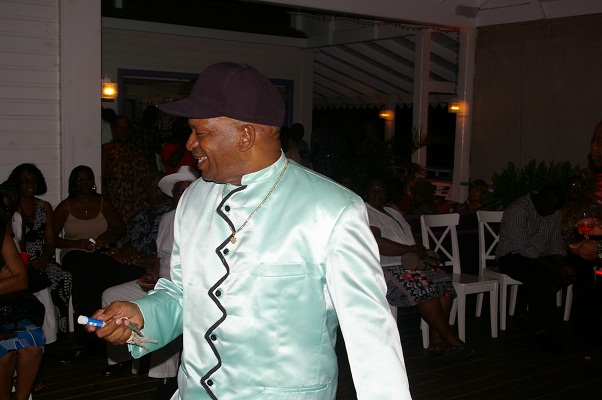 From very early in the week, Premier Parry, who won a second consecutive term in office one year ago this month, began receiving birthday messages via emails, cards, radio announcements and by telephone.
On Saturday (July 7), the actual day of the Premier's birthday, several radio stations in Nevis and St. Kitts were inundated with callers within the Federation and in the diaspora wishing the "birthday boy" best wishes, good health and continued focus in leading the island of Nevis.
The Premier, reflecting on the joyous occasion on his Tuesday morning show, "In Touch with the Premier" said, "Thanks for all the gifts and cards and thanks for the support shown by the many supporters, friends and family."