Premier says more funding from SIDF to come for Nevis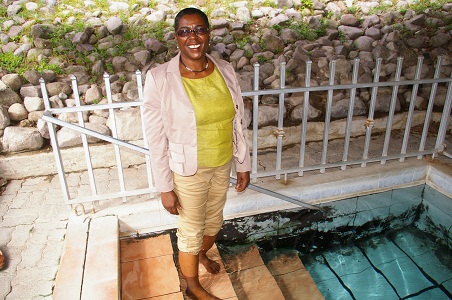 CHARLESTOWN, NEVIS (Tuesday, July 10, 2012) —
Premier of Nevis, the Hon. Joseph Parry says more projects will be done on Nevis, thanks to the Sugar Industry Diversification Fund (SIDF).
The Premier made the announcement Thursday afternoon (July 5) upon receiving a cheque totaling US$434, 595.97 representing a grant from Chief Executive Officer of the SIDF Mr. Terrance Crossman outside the Bath House and Stream.
"It is very important that the Nevis Island Administration (NIA) receive these monies in order to refurbish these historical sites and enhance the product of Nevis, so that cruise passengers who visit the island can enjoy and experience the best that the destination has to offer", said Hon. Parry.
In response to the Premier's statement, Mr. Crossman said that the rehabilitation of the Bath House and Stream and the Saddle Hill Project could help develop two of the island's "hidden treasures" which he said the SIDF was most delighted to help develop and preserve for nationals and visitors to Nevis alike.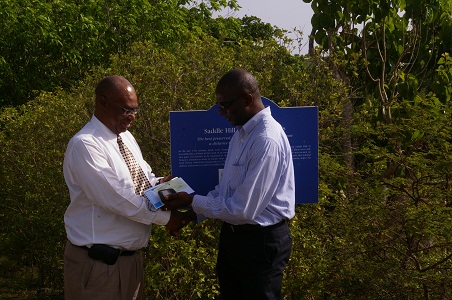 Also making remarks during the ceremony were Tourism Advisor to the NIA, Mr. Alistair Yearwood, Executive Director of the Nevis Historical and Conservation Society (NHCS) Mrs. Evelyn Henville, Chairperson of the Nevis Tourism Authority (NTA), Ms. Keesha Jones and Corporate Affairs Manager at the SIDF Mrs. Delca Bradley-King.
The short, but significant ceremony was co-chaired by Assistant Secretary in the Ministry of Tourism Mr. Carl Williams and Councillor of the SIDF Dr. Hermia Anthony.
The SIDF provides grants, loans, budget support or assistance for the government, persons or institutions who qualify for such assistance.