Premier calls on Voters to Share in the Progressive Vision of the NRP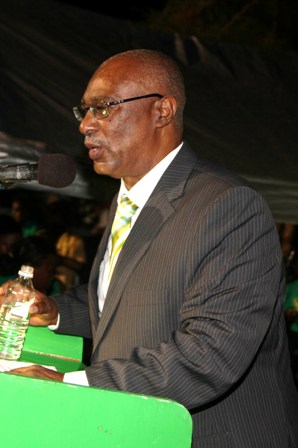 Premier of Nevis, Hon. Joseph Parry (file photo)
Charlestown, Nevis- (Thursday, June 23rd, 2011) The 2011 local election has been announced for July 11th, Nevis Premier, the Hon. Joseph Parry said his ruling, Nevis Reformation Party (NRP) are asking the electorate to look around Nevis and see that his Administration have performed.

The Hon. Joseph Parry made the statement during an interview with the Department of Information Thursday morning. He said his Party has ensured the realization of a vision for the young people to take their rightful place among the youthful population of the world.
"The government has delivered in Education", said the Premier as he noted 170 university scholarships given, Homework assistance programs, the one-on-one laptop programs, school meal programs and additional buildings to a number of schools on the island."
In Housing, the Government has successfully built 308 affordable homes in Nevis in 5 years while the previous administration has only facilitated 112 homes within 14 years.
He added that the NRP Party will continue to change the economic and social landscape of Nevis with focused growth in the small business, Agriculture, land ownership and infrastructural sectors.
"I therefore say to you this morning, do not vote for us solely for what we have done in the past but vote for us based on our plan to take Nevis into a brighter, stronger future," said Premier Parry.