Premier celebrates Black History Month with CSS Students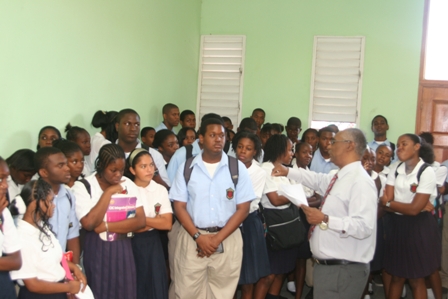 Premier of Nevis and former History Teacher Hon. Joseph Parry lectures Charlestown Secondary School Students on local black history
CHARLESTOWN NEVIS (February 23, 2010) —In celebration of Black History Month of February, students and Teachers of Charlestown Secondary School received a history lecture from the Premier of Nevis, Hon. Joseph Parry at the lobby of the Sixth Form College on Monday.
A former History teacher, Mr. Parry was introduced by Charlestown Secondary Teacher, Ms. Judith Gumbs who gave a brief yet outstanding biography on the Premier. She explained that Mr. Parry had always been a lover of history, in particular the history of the Caribbean.
"The celebration of Black history month is important to understanding and appreciating those before us who have laid the foundation for a strong legacy," said Premier Parry.
During the history lesson, Premier Parry informed the children of their roots and told them it is very important that they understood where they come from and should be proud of their heritage.
"Many of the students here are of African descent and we came as slaves. Despite the horrid beginning of our history here in Nevis, today we have teachers, lawyers and doctors and other prosperous persons who came out of a slave past and has excelled," he said.
The students remained attentive and in the end, some said they were appreciative that the Premier had taken time out of his busy schedule to discuss Black History with them.