Premier keeps promise to the people of Cotton Ground with grand opening of new Community Center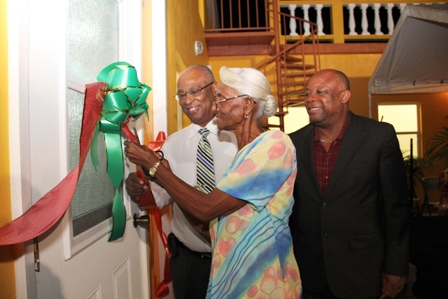 Charlestown, Nevis–(Monday, December 19, 2011)
The spanking new Cotton Ground Community Center was officially opened by Premier of Nevis and Area Representative for St. Thomas Parish, the Hon. Joseph Parry on Saturday evening. Long -time resident of Cotton Ground, Mrs. Aliceson Cornelius cut the ribbon.
"When I was in the Opposition I came to Cotton Ground and told the people that I would build a community center, some laughed, but I am happy today to say I did it because a promise made is a promise kept," Premier Parry told the large crowd of residents and well-wishers who came out to celebrate the occasion.
The impressive two-storey building, which is situated in the heart of the village cost an estimated EC $1.3 million, and was designed by villager Mr. Glanville Bowrin and constructed by Mr. Malvern Jeffers Construction also of Cotton Ground.
" The people of Cotton Ground should be very pleased with the building as it will be the outlet where persons can have dance classes, poetry reading, drama sessions, parenting classes and cooking courses for the young and older persons of the community," noted the Premier.
Demonstrating the great generosity for which he is known, the Premier said that he has a piano at home which he would donate to the Center in the hope that some learned person can teach those interested in learning to play the piano.
The Premier used the opportunity to thank the Clark family, especially Johnny and Bernard (both deceased) who was so instrumental in assisting the Nevis Island Administration with obtaining the land.
"I am so grateful for the assistance of Johnny and Bernard Clarke who both passed recently, but must be remembered for their graciousness in selling the Nevis Island Administration land at a relatively inexpensive rate," said the Premier.
During the ceremony, the Premier called on the people of Cotton Ground, to name the Center after someone who has done something for the people of the village whether it is in Sports, Art or Community Service.
Highlighting a stark difference between him and his predecessor, the Premier made it clear, that the Center should not be named after him, but said he will leave it to the people of Cotton Ground to decide on whom the honour should be bestowed.
" For this Christmas, the people of Cotton Ground have received a community center, embrace it, enjoy it, and most of all take care of it," the Premier concluded.