Premier launches International School Library Month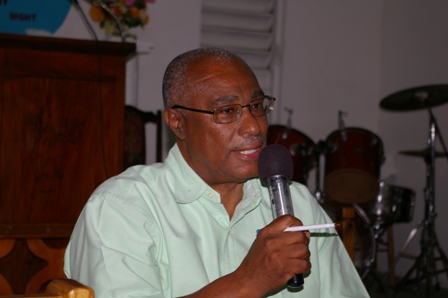 Charlestown, Nevis–(October 5th, 2011)
In a public statement on October 4th, to herald the official start of International School Library Month, Premier of Nevis and Minister of Education, the Hon. Joseph Parry encouraged the young people of Nevis to read. The month is observed in October and this year will be held under the theme "School Libraries Empower Learners for Life".
"One must be aware that reading is one of the best rewarding skills that human beings can have. It opens doors to what would otherwise be impossible and gives the satisfaction, esteem and self worth that we need to make us, for the most part, complete," said the Premier.
He added that for the most of Nevis' history, its literacy rate has been high but a new way of looking at literacy had put the focus on "one's ability to understand, access and analyze what is written rather than simply calling words."
The Hon. Joseph Parry expounded on the importance of school libraries, noting that children needed to utilize the school libraries and browse through the many books that were available.
A number of events organized for the observance are a Nevis Authors Open Day on October 14th at St. Thomas' Primary School and a Poetry and Essay Competition at the Charlestown Primary School on October 18th. On October 19th, a Characterama will be staged at the Ivor Walters Primary School.
In addition, the Elizabeth Pemberton Primary School Book Quiz will take place on October 20th, a Book Banquet at the St. James Primary school on October 21st, a lunch and book discussion on October 25th at the Gingerland Secondary School, a Book Carnival at the Violet O. Jeffers-Nicholls Primary School on October 27th and a Quiz will be taking place at the Charlestown Secondary School on October 31st.
Premier Parry stated he was pleased that many of the Month's activities were meant to get families and communities involved and urged that the public support the activities.
During his speech, the Premier noted that the United Nations Educational Scientific and Cultural Organization (UNESCO) had approved funds for a pilot project to establish a state of the art library at the Elizabeth Pemberton Primary school.
"I thank UNESCO and congratulate the Director of the Nevis Library Services and the Nevis Association for the Development of School Libraries for sourcing these funds," concluded the Premier.