Premier Parry honors Nevis Debating Team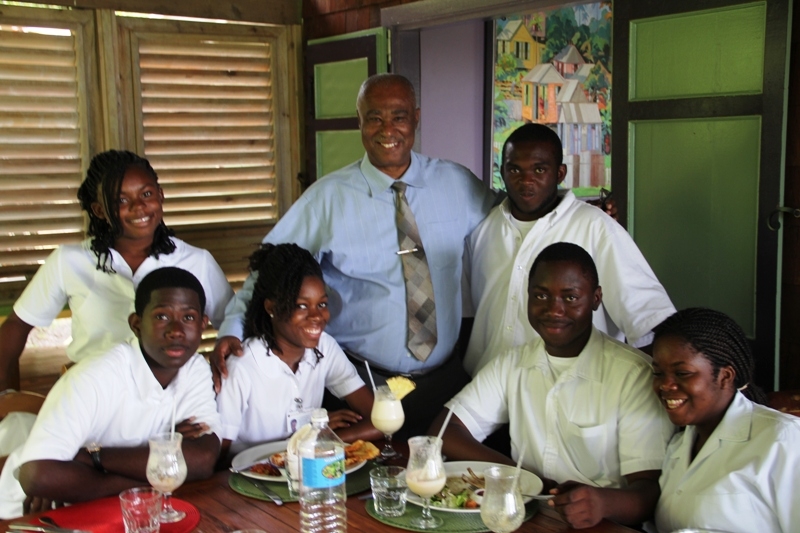 CHARLESTOWN,NEVIS ( Friday,March 9, 2012)–
Premier and Minister of Education, the Hon. Joseph Parry took the Nevis Sixth Form Debating team to lunch at Bananas restaurant on Thursday afternoon as a goodwill gesture following their participation in the 40th Annual Leeward Islands Debating Competition held in Anguilla February 23- 26.
Premier Parry said that he felt it was very important that he met with the debating team, and made some gesture of appreciation for their hard work leading up to, and during the competition.
"Because you didn't win, some people might not appreciate you, and some might just forget about you, but it took a lot of work to reach where you have reached, and I don't want you to forget that," commented the Premier.
The Nevis debating team included: Serena Clark, Theon Tross, Jason Le Blanc, Pearl Bergen, I-Shana Broadbelt and Akin Huggins.
Nevis, the defending champions and seven time winners lost their opening debate to Antigua, in the knock-out competition.
According to the Nevisian leader, the topic for the Nevis team's only debate, "Compulsory education is an unnecessary burden to Caribbean governments," was a difficult one. He said it would take a high level of maturity to suspend your belief to debate on that issue for an hour.
"For any of you students to believe in that topic, you would have to be asleep, because training is the key to success," said the Premier.
The Hon. Joseph Parry said that he believes in the Sixth Formers, and he asked them to position themselves to take their rightful places in society. He said that it is not necessary for them to be a Premier, but it is important for them to be "a leader in whatever they do".
The Premier then spoke to the young adults about the late Nevisian and West Indian cricketer, Mr. Runako Morton, who died in a traffic accident in Trinidad, March 4, stating that after all is said and done he was a "leader".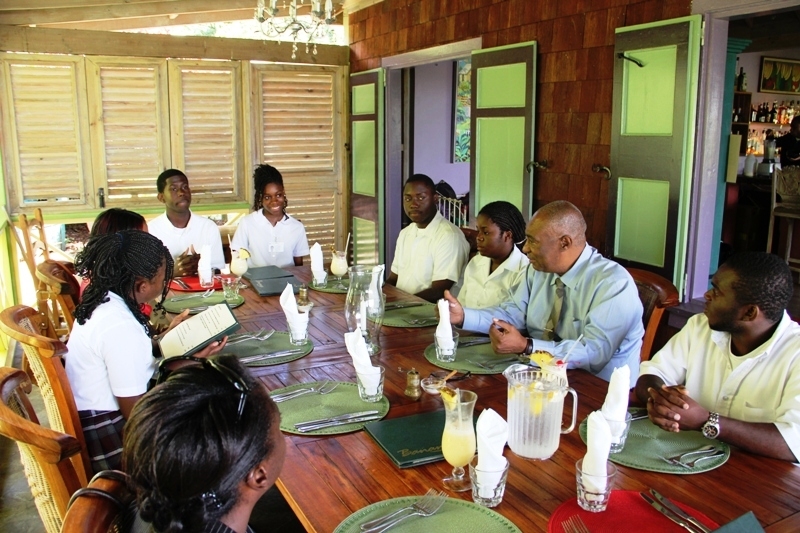 "If you look you will see that a host of persons have sent tributes or have promised to attend his funeral including Jamaican cricketer and former West Indies captain, Chris Gayle; persons from as far away as New Zealand, and other important persons from the cricketing world".
"One can see that Mr. Morton was a leader who made a mark for himself, his family and most importantly for Nevis," said Premier Parry.
The Premier informed the students that a memorial service for Mr. Morton is being planned in Trinidad, to be followed by an open funeral service in Nevis given by the Morton family and the Nevis Island Administration. He said further that the number and caliber of people who are planning to attend will shock Nevisians and highlight how greatly regarded he was.
"We must all realize that we live in a world where some persons play a bigger role than others, and honour should be given where honour is due, so I am here to make you all understand that the role you played was important, and you all deserve to be honoured", concluded Premier Parry.