Premier Parry negotiates for a potential Cruise Industry boom for Nevis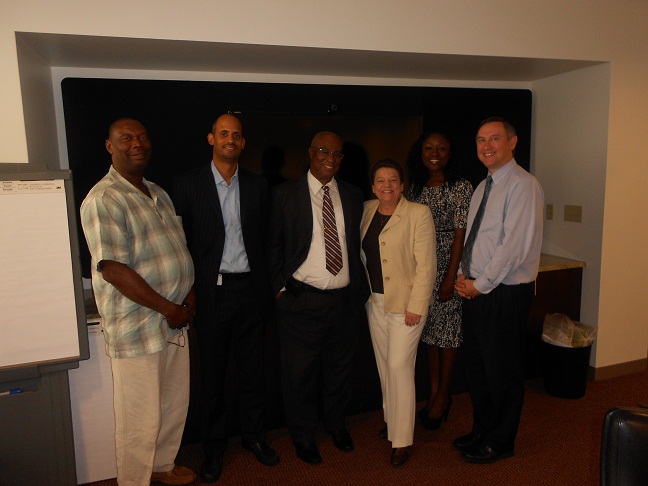 CHARLESTOWN,NEVIS (THURSDAY, SEPTEMBER 20, 2012)–
Premier of Nevis and Minister of Tourism, the Hon. Joseph Parry says he is extremely pleased after completing a round of meetings with several prestigious cruise lines in the United States, and says he is confident that Nevis will have a very successful and financially rewarding cruise season.
The Premier headed a four-person delegation to Miami, Seattle and Los Angeles (September 10-14) to discuss the way forward for the Nevis Cruise Tourism Industry, with the Holland America, Windstar, Crystal Cruises, Prestige Cruise and Silversea cruise lines.
"The various cruise lines informed me and my delegation of the challenges, while underlining the need to visit Nevis, and I explained our plans from the tourism and government perspective going forward for the cruise tourism market on Nevis," said Hon. Joseph Parry.
According to Premier Parry, Holland America is interested in both St. Kitts and Nevis as one destination package. He said representatives from Holland America stated that Nevis is within the demographics of their cruise passengers, and the island is at an advantage in terms of distance between St. Kitts and St. Eustatius – as a result the split calls is a plus for Nevis and their neighboring islands.
"The Holland America representatives were elated that funding is now in place compliments of the Sugar Industry Diversification Fund (SIDF) to refurbish the cruise docking port and arrival area in downtown Charlestown," said the Premier.
They revealed that local history was among a highlight with the cruise officials, and the Nevisian Heritage Village tour is an exciting activity on Nevis for their cruise passengers.
"Activities, especially local, historic or cultural stops are a treat for the cruise passengers port of calls," said the Premier.
Windstar Cruise line has been absent from Nevis for the past two years, but have recently decided to revisit the island, as Nevis has shown great interest in their line by offering upgrades and extended tours that their passengers will enjoy.
The very prestigious six (6) star cruise line, Crystal Cruises have not visited St. Kitts- Nevis since 2008, and their focus has been Australia and New Zealand. Officials of the cruise line stated that Nevis is ideal for their demographics, and they will have an inaugural call in January 2013, with calls continuing through 2015.
The Prestige Cruise Holdings will expand their fleet from seven (7) to eight (8) vessels, and Nevis is expected to receive more calls for the 2013 to 2014 season. The upscale cruise line will make their first call into Nevis in December when they plan to have a grand welcome reception.
The upscale Silversea cruise line plans to make calls from April 2013-2014, and "they are very interested in doing a two-day call in Charlestown", the Premier said. The charters are regular into Nevis, they are very successful and several are planned for the 2013- 2014 cruise season.