Premier Parry says: new water well commissioned; another promised kept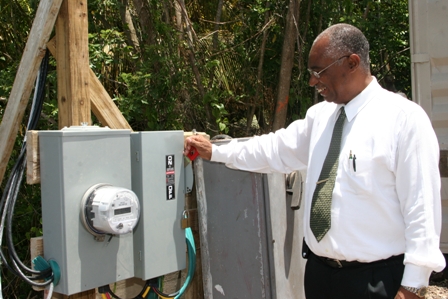 Relief came for the residents in St. Johns and St. Georges when another high yielding water well which added 1 million gallons of water to the island's water system, was commissioned at Fothergills in Gingerland. The event took place on July 25, 2008, when Premier of Nevis Hon. Joseph Parry flipped the lever to begin pumping the "new water". He said the well represented another promise fulfilled by his Nevis Reformation Party led Nevis Island Administration.
 
"It was my personal determination to beat this dry weather before Culturama. When Nevisians come home they must have the same comfort that they have abroad and I am pleased to see that we have been successful and we are here to turn on this pump in the Fothergills area today. I will say this, the government has promised and the government has delivered and has been delivering for the past two years and we will continue to do so.
 
"We have not built the pump house yet but you will see some other pieces of construction taking place but the most important thing is to get water into the pipes and to make the people of Nevis comfortable and that is exactly what we are doing and in the famous words – better has come for the people of Nevis," he said.
 
Premier Hon. Joseph Parry inspects the pump at Fothergills and is accompanied by (L-R) Mr. George Morris, Dr. Ronald Hoag, Mr. Rawlinson Isaac and Mr. Brian Kennedy
The Premier added that some weeks ago when the first new well was commissioned at Maddens, it was said that there was enough water for all the people of Nevis but the difficulty was to get the water from St. James to Gingerland or parts of St. Johns. Therefore the Nevis Water Department continued to ration the water supply to those areas.
 
Notwithstanding, Mr. Parry said both new wells which had been developed by Bedrock Exploration and Development Technologies (BEAD), under the leadership of Geologist Dr. Ronald Hoag supplied an added 432,000 gallons of water daily.
 
 "Today is the day when we can say to them we are giving you about 432,000 gallons additionally per day and a total supply of over half a million gallons for the people of St. George and St. John to match what is coming from the Maddens area.
 
"This problem was not a problem which sprung up months ago or two years ago. This obviously is a problem that has been growing for the past 10 years simply because we have not been increasing the water supply. We have had a regular and steady water supply of 1.4 million gallons a day for the past 14 years or so. We have not really dug any new wells and we have not even maintained some of the wells," he said.
 
Because of the exercise undertaken with BEAD, he said, there was at least 1 million gallons of fresh water being injected into the water supply, "I understand some of the best drinking water into the water supply in addition to that 1.4 million gallons."
 
Water explorations for additional water on Nevis commenced in late October 2007 on the first drill site in Hamilton Estate. Prior to drilling, ground water drilling explorations were carried out through out the island which included mapping through the use of satellite imagery, underground surveys and geophysical surveys to identify the target drill sites.
 
Under the Bedrock Exploration and Development Technologies (BEAD) contract with the Nevis Island Administration (NIA), the company was expected to develop one million gallons of ground water per day to compliment the current supply now available to the island.  
 
Other persons who participated in the commissioning were Water Development Engineer Mr. Brian Kennedy, Dr. Ronald Hoag, Mr. Rawlinson Isaac and other officials from the Nevis Water Department led by Mr. George Morris.