Premier Parry to spread a message of hope, optimism and good governance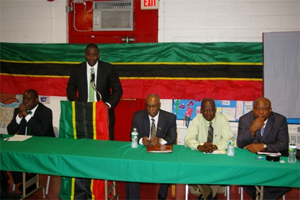 Charlestown, Nevis (Monday, November 26th, 2012)–
Premier of Nevis, the Hon. Joseph Parry told the Department of Information on Monday that his Nevis Reformation Party (NRP)-led Administration will take a message of hope, optimism and good governance to Nevisians in the Diaspora when they visit three North American cities this week-end.

The 5 person delegation, led by Premier Parry, will include the Attorney General of St. Kitts- Nevis, Hon. Patrice Nisbett, Former Deputy Premier, Mr. Hensley Daniel, Advisor to the Premier, Mr. Llewellyn Parris. The Minister of Housing and Agriculture, Hon. Robelto Hector will join the team in New York
They will meet with Nevisians at the following places and times.
– Friday, Nov 30 (Boston) at Faith Christian Church Hall-301 Harvard St. Dorchester, M.A from 6:30 pm.
– Saturday, Dec. 1 (Toronto) at the Toronto Plaza Hotel 1677 Wilson Ave, at 6:30pm
– Sunday, Dec. 2 (New York) St. Andrews Church Hall, 781 Castle Hill Ave, Bronx from 7pm.
"Our meetings", Premier Parry said, "will provide a stark contrast to the campaign of lies, propaganda and the philosophy of gloom and doom spread by the Concerned Citizens Movement (CCM) in recent meetings in New York and Toronto. Our meetings will point a positive way to the future."
In a recent meeting in New York, CCM's co-leader, Vance Amory, told Nevisians in a sky-is-falling-in-Nevis tirade: "Nevis is shipwrecked."
The Premier said that such negative mouthings have become typical of the CCM, who pride themselves in opposing everything good for the people of Nevis.
"We will outline why the NRP is best for Nevis at this time, and provide a power point presentation which outlines the credible plans and programs that we have for the betterment of Nevis", Premier Parry said.
Premier Parry said the NRP has always valued the contributions of Nevisians in the Diaspora.
In delivering his state-of-the-union address at the NRP's 2012 Convention at the Nevis Performing Arts Center on Sunday, October 28, Premier Parry said: "Brothers and sisters, we are joined today by scores of overseas-based Nevisians who continue to display an interest in things Nevisian. They each want to ensure that their offspring will always have a place to call home".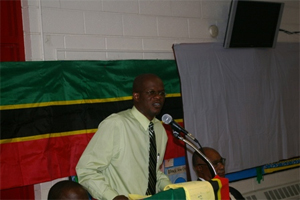 He said he appreciated the contribution the overseas-based Nevisians continue to make to the social and economic well-being of this island.
"Our every policy statement reflects an acknowledgement of their existence and importance to the social and economic fabric of this society," the Nevisian leader said.
He concluded, "So we salute our non-resident Nevisians this evening. Wherever you are in the Diaspora, following this event on the world-wide web, we want you to know that when we speak of Nevis and Nevisians, you are factored into that equation. We welcome hearing from you; we especially welcome seeing you here in Nevis, appreciating all the good that the Nevis Reformation Party- led Administration has done."
The Convention heard presentations from overseas delegates based in: Boston, Toronto, New York, Washington, DC, St. Thomas (USVI), St. Martin and the British Virgin Islands.