Premier reports on progress in Education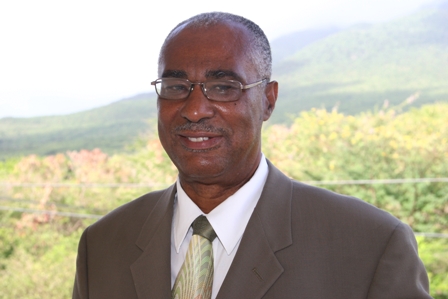 Premier of Nevis and Minister of Education Hon. Joseph Parry addressed the nation on August 29, 2008 on NTV Channel 8, and spoke of a number of developments in the area of Education, as the island prepared for the commencement of the new school year on September 01, 2008.  
"I must congratulate the Permanent Secretary in Education, Mr. Joseph Wiltshire, Principal Education Officer, Mrs. Jennifer Hodge her staff at the Department of Education and every head teacher for their sterling efforts of ensuring that they deliver good quality education to the children of Nevis," Mr. Parry said.
 
The Premier announced a record improvement in the performance of the Primary School students in the Test of Standards which he described as "quite significant", since every school on the island had improved.
 
He also congratulated the children and their parents and encouraged the teachers and parents to boost the children's confidence through public praise for their achievements.
 
Meantime, while he outlined the school results for 2008, Premier Parry stated that 636 subjects were taken by the students at the Charlestown Secondary School (CSS). It was the highest number of subjects done by the school when compared to 609 in 2007 and 426 in 2006. There were 475 subject passes, the same number as last year. In 2006, there were 335 passes. On an annual basis, the percentage passes were 2006 – 78.6 percent, 2007- 77.9 percent and in 2008- 74.68 percent.
 
In 2008, 24 subject courses were offered with passes attained in all of them.
 
At the Gingerland Secondary School (GSS), 448 subjects were taken out of which there were passes in 367 subjects. This compared to 2007- where 442 subjects were taken and 320 passed; 2006 – 351 taken and 215 passed.  The percentage pass rates at the GSS for the past 3 years were 2008, 81.9 percent; 2007-72.39 percent and in 2006 – 65.54 percent.
 
A total of 26 subject courses were available with good passes in very subject.
 
Human and Social Biology was introduced at the GSS two years ago for which eight students obtained an 87.5 percentage pass rate. This year 10 students were entered and attained100 percent passes.
 
With regard to the Caribbean Secondary Education Certificate (CAPE), Mr. Parry announced that 24 students from the GSS obtained eight or more subjects at the CSEC level.  Three students passed 12 subjects. Ms. Earline Pemberton passed 12 subjects with 9 distinctions; Ms. Careve Williams passed 12 subjects with 7 distinctions, Master Kirtsiyn Herbert passed 12 subjects and 4 distinctions, Master Simone Hill passed 10 subjects with 8 distinctions and Ms. Arianna Morton passed 10 subjects and received 7 distinctions.
 
The CSS had 20 students who passed eight or more subject passes. Master Javier Stanley obtained the most subject passes with 12 passes and 11 distinctions, Ms. Joanne Flemming obtained 11 subjects with 9 distinctions and Master Kris Liburd received 11 subjects with 7 distinctions.
 
For the Caribbean Advance Proficiency Examination (CAPE) results, Premier Parry congratulated Ms. Agiel Browne for having passed all her units with distinctions. He also made honourable mention of Science student Ms. Florelle Hobson, who scored 6 distinctions in her two years at the Sixth Form.
 
Meanwhile, Mr. Parry congratulated 1st year students Ms. Sashia Godet and Ms. Michelle Slack who scored three distinctions each, while in their first year programme and Ms. Damalie Martin and Ms. Nayalia Parry, final year students who achieved three distinctions each in their final year at the Sixth Form. They too were also recognised for their hard work.