Premier to resume One on One meeting's October 5th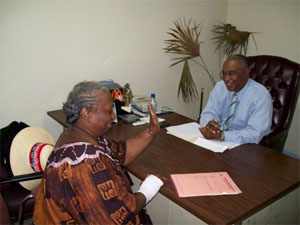 Charlestown, Nevis (September 30th, 2011) One on One meeting's with the Premier of Nevis, the Hon. Joseph Parry will resume on Wednesday, October 5th from 10am-12noon.
The One on One meeting's as they have been named, will continue to afford members of the general public easy access to the Premier in an informal setting. The top floor of the Eulalie Williams building in Charlestown will be the new venue for the meetings.
"The program was initiated by me to meet with residents of Nevis every Wednesday morning at an easy access location. I prefer to have an informal meeting downtown where people can come in and we are able to deal with their problems, suggestions and questions," said Mr. Parry.
During a weekly session, Premier Parry would see on average about 15-20 persons and about 80 per month. This is to the benefit of the public who would be able to meet with the Premier without the stress of waiting for an appointment at his Bath Hotel office.
The Premier noted that he had met with a wide range of persons to discuss a number of issues from personal to professional.
He indicated that the One on One meeting's was the first of its kind ever initiated on Nevis and he was proud of the positive feedback that he has received from the public, in response to the sessions.
The Premier concluded, "I will say pointedly that although we have been on hiatus for awhile, I have no intention to end the meetings with the public, once I am in good health and on island."