Premier welcomes teachers to new School Year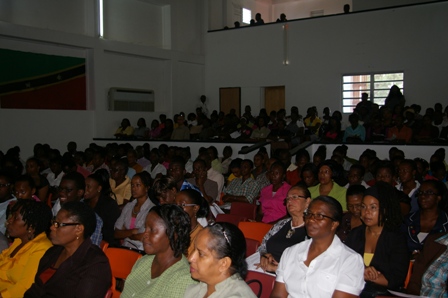 Charlestown, Nevis–(Tuesday, August 30th, 2011)
Premier of Nevis and Minister of Education the Hon. Joseph Parry delivered an inspiring message to teachers on Nevis about the importance of character building of young people both in school and the community. He was at the Department of Education's Back To School Opening Ceremony on Monday, August 29th at the Nevis Cultural Centre in Charlestown.

"When I meet the young men and women of our island, I have found that the young women seem so intelligent and assertive while the young men are usually shy and small. We need to help them and give them some recognition.
"This could be the reason why a number of young men choose to use guns, as they try to hide their inadequacy. I hasten to add that it is important that teachers, parents and those in the community reach out to them and make them feel and understand that they belong," commented the Premier.
He explained that a pilot project will soon be on stream to emphasize character building. Mr. Parry told the teachers that instead of referring to Nevis as an island in the Caribbean with crime, which can turn away the tourists, he added that a value system and ethics programme should instead be reevaluated.
The Minister of Education also expressed his position that educating the young people of Nevis was very important to the growth and development of the country. Mr. Parry also made it clear that his Nevis Reformation Party (NRP) – led Administration had made it its vision to ensure that every home on Nevis received one graduate of tertiary education.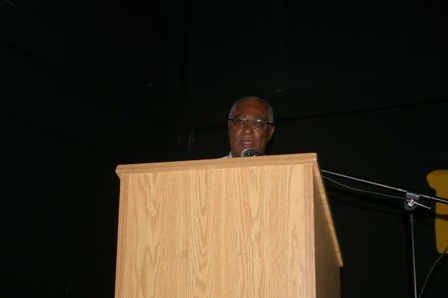 "I know that there are many people who do not believe that this vision can become a reality but when you look at some countries in Asia, it has been a dream and today most parts of Asia have seen this idea become a reality and they have experienced financial wealth due to education," Premier Parry said.
This year the Back To School exercise was held under the theme, "Breaking Barriers, Building Capacity, Strengthening the Bond Between the School and the Community!"
During the ceremony, Principal Education Officer, Mrs. Lornette Queeley-Connor welcomed the gathering to the annual back to school opening ceremony and wished them renewed vigor in the new school year.
Mrs. Connor told the audience, "I am always excited when the new school year rolls around. For with it comes just like the new calendar year, an air of freshness, a time of renewal, motivating insights and a time to insist on righting the wrongs of the year gone by."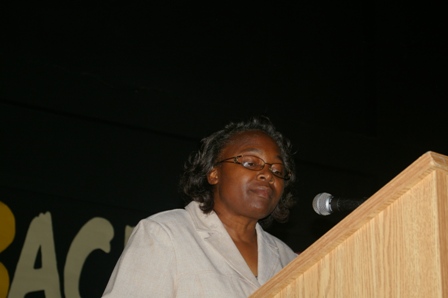 Over 300 teachers from the islands Pre-school, Primary and Secondary Schools took part in the exercise. Education Officer, Mrs. Palsy Wilkin chaired the function while Nevisian born Educator, Dr. Ermine Leader gave a stirring keynote address.