Premier worships with Nevisian Nationals in Leeds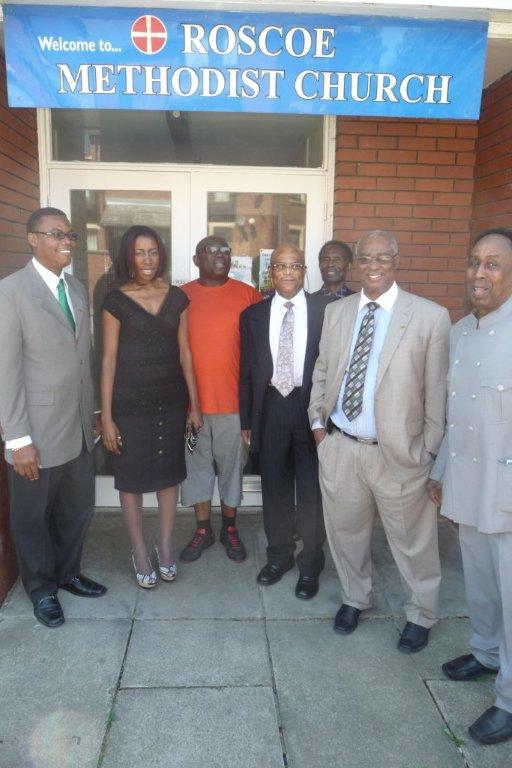 Charlestown Nevis (Monday May 28, 2012) — Premier of Nevis, the Hon. Joseph W. Parry along with a delegation that has just completed a tour of three English cities, worshiped on Sunday with the largely St. Kitts-Nevis congregation, at the Roscoe Methodist Church in Leeds.
The Premier who was very welcomed by the congregation, got up and thanked the members of the church for their warmth and embracing manner shown to him and his team. Accompanying him to the church service were Junior Minister- the Hon. Dwight Cozier and Personal Assistant, Ms. Juliet O' Loughlin.
Located in Chapeltown, the Roscoe Methodist Church has been a spiritual place of worship for the large community of Kittitian and Nevisian nationals who have resided in the area since the early 1950s.
Mr. Claude Hendrickson, of Nevisian heritage who organized the very successful Town Hall meeting in Leeds where Premier Parry and his delegation addressed nationals of St. Kitts-Nevis, said after the service that the church will be celebrating their 150th anniversary this weekend and according to him, "What better way of kicking off the Church's celebration than with a visit by the Premier of Nevis."
Premier Parry who had a number of business meetings in London and hosted successful Town Hall meetings with St. Kitts- Nevis Nationals in Birmingham, Manchester and Leeds said he will be returning to Nevis on Tuesday, May 29th to help plan an official funeral for Nevis' first Premier, the Hon Dr. Simeon Daniel who died on Sunday., May 27th.